We Are Insured For Your Protection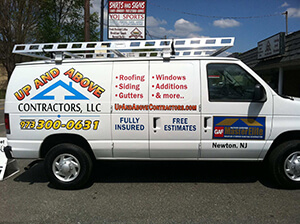 Up and Above is a licensed contractor in the State of New Jersey and the Commonwealth of Pennsylvania.
NJ License # 13VH00572100
PA License # PA050082
For your protection we carry full liability insurance coverage of up to $2 million, along with workers' compensation insurance. This is your assurance that, should an accident occur on your property during a project, you are protected.
If you hire a contractor without this level of insurance coverage and an accident occurs, you may be held liable and your own homeowner's insurance could be made to pay any damages.
Get a FREE Estimate
Call Up and Above today at (973) 531-4225 for a FREE in-home consultation and estimate. Or simply complete and submit our request form and we'll contact you within one business day.