New Jersey Storm Damage Repairs
Call 973-531-4225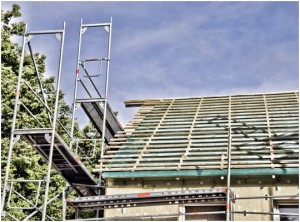 When disaster strikes your home, Up and Above Contractors is ready to respond. Hurricanes bring high winds, damaging hail, and heavy rain that can all cause damage to your home's exterior, including your roof, gutters, siding and windows.
Once the storm abates, we'll return to assess the damage and restore your home to its original condition. Our professionals can also help guide you through the insurance process, including documentation of damage to prove insurance claims.
Beware of "Storm Chasers"
Following a storm event like a hurricane, New Jersey can be flooded by "storm chasers." These are out-of-state "contractors" who rush into a damaged area to try and take advantage of vulnerable homeowners. They offer quick repairs at low prices, but then disappear with your up front payment. Don't be fooled by these traveling thieves!
When dealing with the effects of a storm disaster, it's important that you choose an experienced local contractor like Up and Above. We have the resources and reputation you need to be assured that your repairs will be done properly and on time.
Don't put repairs off until later
You may be tempted to delay repairs until a later date. But even minor damage now can lead to a larger, more expensive problem later. Water seeping into your home through a damaged roof may not become noticeable for up to 18 months, which is plenty of time to cause extensive damage to the structure of your home.
At the very least, call Up and Above for an on-site inspection and assessment of the damage done to your home. Our professionals will be able to spot unseen damage and potential problems that are not visible to the untrained eye.
Hidden damage can result in long-term trouble
For example, a hurricane can cause untold damage to your roof. Cracked shingles, roof penetrations and damaged gutters are the most visible problems. But high winds and flying debris can also cause "bruising" of the layer under your shingles that can spread and cause leaks. Up and Above's experts can identify the signs of such damage so that we can make repairs before they result in huge headaches.
We work with your insurance company
Up and Above Contractors has extensive experience working with insurance claims, and will take the lead in working with your insurance company to make sure you receive the full compensation to which you are entitled. This includes complete documentation of the New Jersey hurricane damage for claims purposes.