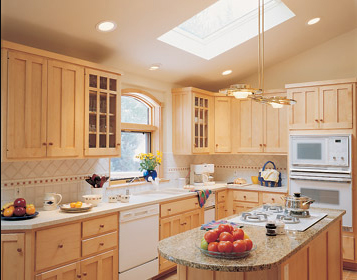 Spring and summer don't have to be the only warm seasons. Bring natural light and warmth into your home during the winter with a modern VELUX® skylight! The Sussex County roofing professionals at Up and Above Contractors can add a skylight to virtually any room in your home in as little as one day.
VELUX skylights offer many practical benefits.
1. By installing a skylight to bring natural light into your home, you significantly reduce the need for electric lighting.
2. The warmth generated by outside light can keep your home warmer in winter, saving on the amount of fuel needed to heat your home.
3. VELUX skylights are available with energy-efficient glass packages that insulate your home against cold and heat.
4. Numerous accessories are available to allow you to control the amount of light and heat entering your home through a VELUX skylight.
VELUX skylights come in a wide range of sizes and features, and with a full assortment of stylish blinds to choose from. Bring the joy and warmth of natural light into your home all year long with VELUX skylights from Up and Above Contractors. Call us today at (973) 531-4225 or click here to schedule a FREE skylight estimate.