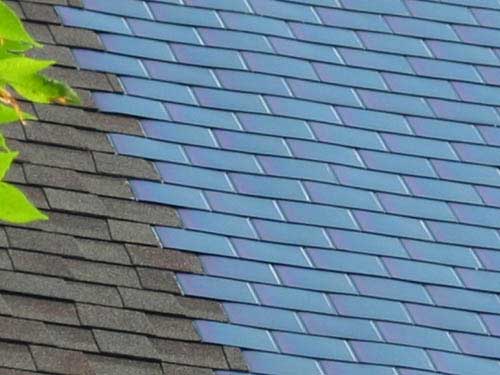 A growing trend in the roofing and new construction markets is an interest in environmentally friendly, or "green," roofing products. There are many categories of eco-friendly roofing products to choose from that can help improve your home's efficiency, reduce energy costs and lessen environmental impact. Here are a few ideas:
• Solar roofing can significantly reduce home energy costs by generating electricity, in addition to protecting the home. Solar systems come in the form of solar shingles integrated into the roof, or panels mounted onto an existing roof.
• Recycled-content shingles are made from recycled waste materials, such as plastic, rubber or wood fiber. This keeps waste out of landfills and reduces the use of natural resources, which in turn lowers energy consumption and reduces pollution.
• 50-year asphalt shingles, such as the GAF Timberline® series, can last 2-3 times longer than a standard shingle, making them an eco-friendly choice. GAF Advanced Protection® shingles are specially engineered to be lighter and stronger than the average shingle, yet use less asphalt and limestone and require less fuel to transport.
• Reflective shingles, including the GAF Timberline® Cool Series, help to reduce temperatures in your attic during the summer, keeping your home cooler and cutting air-conditioning costs.
• Many metal roofing products include recycled material, and metal roofing can be recycled at the end of its life. Which brings us to another advantage: metal roofs can last up to 50 years, resulting in less material waste in the long run.
There are numerous eco-friendly roofing products to choose from, so compare your options carefully. Be sure to check with your insurance agent to see whether the product you're considering will qualify you for a discount on your homeowner's insurance! For more information about "green" roofing choices, or to schedule a FREE roofing estimate, call the best roofers in New Jersey: Up and Above Contractors!