Leading New Jersey Roofing Contractors – Roofing, Siding, Window Replacement & More!
Since 1993 Up and Above Contractors has been providing some of the best roofing New Jersey has to offer as well as other services such as siding, gutters, windows, doors, decks, porches, and additions. With an experienced, considerate staff and the highest quality materials, Up and Above Contractors, LLC has become one of the roofing companies in NJ with the best reputation and the best service. Call us at (973) 300-0636 or email sales@upandabovecontractors.com to get your free estimate today!
Winner of the Readers' Choice Award
We're proud to have been awarded the Gold Ribbon for Best Roofer and Best Contractor/Builder in the 2016, 2017 and 2018 Readers' Choice Awards, presented by the New Jersey Herald. This is the 12th year that readers vote for the best businesses in Sussex County. Thanks to our loyal customers and the general public for honoring our company and other local businesses who strive to deliver a quality experience every day.

Local Roofing Contractor – Our 25th Year!
We've served literally thousands of customers throughout Warren, Morris and Sussex Counties. Whether you live in Sparta, Andover, Hopatcong, Byram, or Rockaway, chances are we've installed a roof or other home improvement in your neck of the woods. Turn a House into your Dream Home, call us today about how you can get a mortgage or refinance your existing mortgage and roll all your renovations into your loan.
Eligible Property types:
1-4 Unit Properties (owner and non-owner occupied)
Investment Properties
Second Homes
Condominiums
Repairs /Upgrades
Luxury items/upgrades (e.g. kitchen/bathroom remodels, decks, additions etc)
Repairs (e.g. roof, siding, etc)
Must add value and be permanently affixed to the property
Guidelines
Minimum Renovation/Repair amount $5,000.00
Maximum Renovation/Repair amount $250,000.00

Certified by the top manufacturers in our fields, including GAF, Harvey, Velux, Leaf Relief, Mastic, and CertainTeed, Up and Above promises the highest quality products backed by professional warranties in order to ensure that your New Jersey contracting job will last for years to come.
In 2013, 2014 and again in 2015 , we were proud to have been awarded the GAF President's Club Award Winner. This is not an award you can campaign for, nor is it based on sales; this honor is the highest mark of distinction that GAF bestows on a select few contractors each year.
No other roofing contractor in New Jersey offers our wide range of services and experience at roofing New Jersey homes. Here's what you can expect by selecting Up and Above to be your New Jersey roofing contractor or home remodeling company:
Experienced, considerate workers
Consistent, high-quality workmanship
Clean work site
Personal attention and follow-through by owners
Workers Comp and Liability Insurance – NJ and NY
Window Replacement and Siding NJ professionals
Always a professional job at a fair price
By providing New Jersey window replacement services and installing the kind of doors, gutters and siding NJ homeowners can rely on, our team can make your home more comfortable and energy efficient while enhancing its "curb appeal." We'll help you reduce your monthly energy bills, too.
Need more room to fit your expanding family or are you ready to start a new project? Up and Above Contractors will work with an architect to design and build an addition onto your New Jersey home that will fit your family's needs.
In all of our jobs, Up and Above Contractors promises "a professional job, at a fair price."
Schedule a FREE Estimate
If you need roofing, siding and New Jersey window replacement services, call Up and Above today at (973) 300-0636 for a FREE in-home consultation and estimate. Or simply complete and submit our request form and we'll contact you within one business day.
Up and Above Wins 3 Awards from GAF
We're proud to be one of only two New Jersey roofing contractors in the entire state to receive all 3 Excellence Awards from GAF, the largest shingle manufacturer in North America. We are not only grateful to receive this honor, we take it seriously because these three categories represent the level of expertise we bring to your project.
So when you're looking for the best roofing contractor New Jersey has to offer, you've got GAF's confidence and highest stamp of approval behind Up and Above Contractors.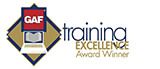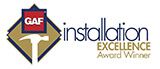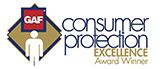 Read More