Our Mission: Your Satisfaction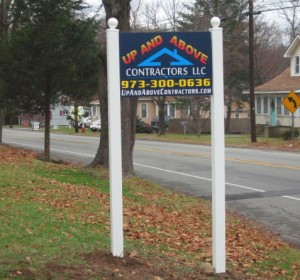 At Up And Above Contractors, LLC, our mission is to provide you with a professional job at a fair price. As a family-owned and -operated company, we pride ourselves on being the kind of company that you want to do business with.
How to Choose a Roofing Contractor
Choosing the right roofing contractor for your home can be challenging and confusing. Here are some tips to help you make the decision:
Make sure that your contractor has worker's compensation and liability insurance. Ask to see the certificates and call the insurance company to confirm that they are valid.
Make sure that the company you choose is local, that they have an established business and reputation in the community. If you have problems during the warranty period and the company you chose to install your roof has closed, moved or vanished, you're out of luck.
Don't base your choice on price. Anyone with overhead and proper insurance has to establish pricing to cover such costs. Those who work out of a pickup truck can always bid low, but their customers often end up spending more money to fix problems.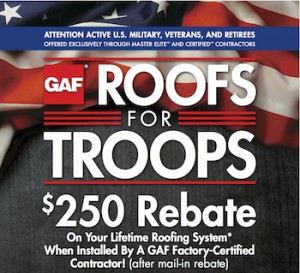 Check Reviews, Payment Terms
Avoid storm chasers and high-pressure salesmen. Steer clear of knock-on-the-door, "we were in your neighborhood" roofing contractors. Pick a local roofer and check out their website and reviews. Don't be pressured by forceful tactics to sign an intent letter. Wait to see the contracts and take your time reviewing them.
Make sure that you are satisfied with the result and terms of payment. A reputable company will provide you with a certificate of insurance, a written contract that states the payment terms, start/finish dates and a three-day right of rescission.
Communication is paramount. If you aren't getting your calls returned when they are trying to get your business, what will happen once you have committed the work to them?
Roofs For Troops
U.S. Military Troops get a $250 rebate when you install a qualifying GAF roofing system on your home and purchase an Enhanced Warranty. We complete the Roofs For Troops paperwork for all customers.
Contact a Roofing Contractor That Guarantees Satisfaction
Up And Above Contractors, LLC is local, affordable and guarantees customer satisfaction. Call (973) 300-0636 or fill out the online form to schedule an appointment for a FREE estimate.