New Jersey Metal Roofing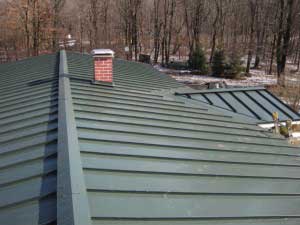 Durable and flexible in terms of looks, metal is becoming a more popular choice for New Jersey homeowners who want a roof with a longer life span and little to no maintenance. Metal comes in a wide range of colors. We offer 1 ½ inch Standing seam Metal or corrugated Metal roofing. Metal roofs have a 40 year warranty on the panel & paint.
Up And Above Contractors, LLC has been installing metal roofs all over Morris, Sussex and Warren Counties — ask to see our portfolio
Up And Above Contractors, LLC is an expert in the installation and restoration of metal roofing systems. Metal roofs possess excellent strength, durability, and fire resistance. A versatile metal roof can imitate the look of tile, asphalt or slate, be colored in virtually any manner and is available in panels or shingles. Metal roofs New Jersey often last for 40 years or more and most come with a lifetime warranty.
What makes a metal roof an excellent option for your New Jersey home or business?
Technologically Innovative – Advances in metallurgy and installation techniques give metal roofs additional durability.
Durable – Metal roofing systems carry meaningful warranties against fading, chipping, chalking, and rusting. They've passed wind and uplift tests including UL 580: a rigorously demanding test of roofing materials that simulates wind speeds over 120 miles per hour.
Safety – Metal roofing systems lead the way in fire protection. With a metal roofing system you can rest easy knowing that your home and family are protected from deadly and destructive flames by non-combustible roofing materials.
Attractive – Choose from a wide array of colors and themes that will fit your taste and style.
Long-Lasting – A metal roof has a long life and gives you extra protection, plus it enhances the beauty and value of your home.
Our roofing experts are happy to consult with you on the merits of metal roofing and whether it's right for you and your home.
Get a FREE Estimate
Call Up and Above today at (973) 300-0636 for a FREE in-home consultation and estimate. Or simply complete and submit our request form and we'll contact you within one business day.