New Jersey Kitchen Remodeling
Up And Above Contractors, LLC is the local company to call upon for your New Jersey kitchen remodeling project.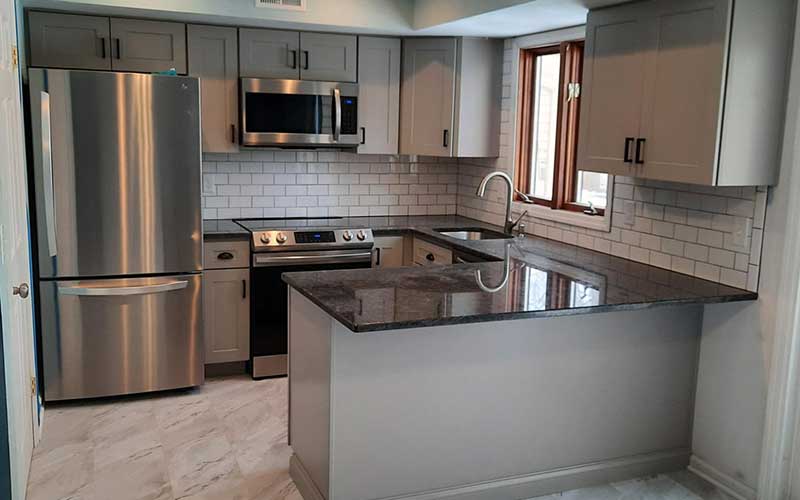 From project conception to completion, our team will help you determine what will work best within your kitchen space. Counter tops, sinks, flooring, back-splashes — you name it, we can help you select the highest quality materials within your budget.
A Personalized Approach to a Successful New Jersey Kitchen Remodeling Project
All of our New Jersey kitchen remodeling projects are unique. It's never a one-size fits all. We carefully measure the space with which we need to work, then consult with you on cabinetry selection, appliances, fixtures, and even windows and doors. Since the kitchen is the most-used space in your home, it's important that you feel comfortable knowing you have kitchen remodeling experts working with you every step of the way.
We Love to Hear Your Ideas
Some of our customers cut out pictures of kitchen designs in magazines and home improvement guides, or find them on online sites. That's a good thing. We find that the more time our customer has invested in thinking about the kitchen, the smoother the process can be.
But even if you haven't had time to do research, there are some useful questions to ask yourself about what's important to you in a New Jersey kitchen remodeling project with Up And Above Contractors, LLC. For example, is ample countertop space important? How about the size of the sink? What kind of cabinetry suits your style? And, will you be updating your appliances? If so, have you thought about certain brands, features, and the sizes that you prefer? All of these facts come into play when remodeling your kitchen.
Kitchen Remodeling Estimates Made Easy
Take advantage of the knowledge, skills, and creativity that Gary Powers and his team of New Jersey kitchen remodeling professionals deliver on every project. Call us for an in-home kitchen remodeling estimate at (973) 300-0636, or simply complete the form on the right. Use the message box to inform us that your request is for a kitchen remodeling estimate.
It would be our pleasure to design and install a kitchen that is beautiful and functional. Contact us today to get started!