We Are a GAF MasterElite Roofing Contractor
Up and Above Contractors has earned the designation of "MasterElite" roofing contractor from GAF Corporation, the country's leading roofing materials manufacturer. To achieve this high honor, our management and installation crews have completed rigorous training and testing to ensure that our installation methods and procedures meet the superior standards established by the GAF Corporation.
Choose Your Level of Protection
GAF offers three distinct levels of shingle quality and protection, plus a remarkably affordable slate shingle option. We'll help you select the one that is right for your home's design and location.
Which Shingle Style is Right for You?
GAF provides a wide array of shingle styles. Here are some of the popular ones selected by other New Jersey roofing customers:
Timberline® Lifetime Shingles
Protect and beautify your home with Timberline®, North America's #1-selling shingles. Timberline® shingles now have a lifetime limited warranty!
Timberline HD
Timberline Ultra HD
Timberline American Harvest
Designer Lifetime Shingles
Beautiful, stylish, and exceptionally durable, Designer Lifetime shingles will make your home the envy of the neighborhood!
Value Designer shingles
Slateline
Camelot II
Monaco
Sienna
Grand Seqouoia
Woodland
Ultra Premium Designer Shingles
Camelot
Grand Canyon
Glenwood
The Glenwood is the most authentic wood shake-look shingles you can buy
Timberline Cool Series
Helps reduce cooling energy costs and some utility companies may provide incentives for using cool shingles
Victorian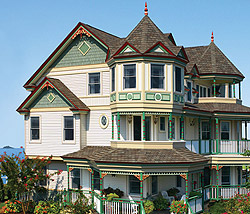 Victorian style homes' ornate designs and bold color choices are most complementary with the Slate shingle family. Regarding color, a bolder color palette such as red, green, or blended grays provides a strong contrast to the rest of the home's color scheme and architecture. More specifically, the following shingles are recommended for a Victorian style home:
Sienna
Affordable old world elegance in a unique diamond shape
Grand Canyon
look has incredible depth and dimension and is the Ultimate choice for a rugged wood-shake look
Similarly, this is a slate look at a very affordable price;
clean design emulates the look of slate at a fraction of the cost.
Glenwood -most Authentic Wood shake –look you can buy
Colonial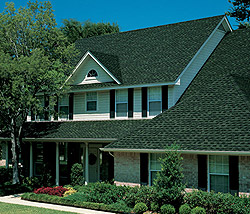 Colonial style homes have very square and typically more symmetrical look to them. This style is prevalent in the Northeast and Central areas, although it can be found anywhere in North America. Similar to Georgian style homes, the slate-look family of shingles is the best fit for this style (and is an indigenous roofing material that can be found in the Central and Northeast regions where Colonial architecture is very popular). Darker colors, such as grays and blacks with hints of red, blue, or other accents are a great fit for this type of home.
Grand Slate
Slate look provides a nice accent to a colonial style home,
especially because slate is indigenous to the northern areas.
Slateline
Similarly, this is a slate look at a very affordable price;
clean design emulates the look of slate at a fraction of the cost.
Camelot…
Designer slate look creates dimensionality and a refined look on the roof, while still maintaining the integrity of the overall building architecture.
Camelot II
An affordable luxury option- same great design as Camelot!
Tudor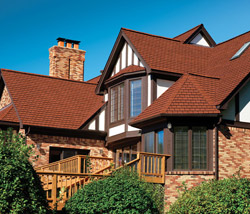 Tudor style homes, with their steep pitched roofs, are great for showing off an elegant roof style. They are typically found in the Northeast and Central areas and have muted tones on the front facade accented with brown or grey cross-gables. When choosing your roof color, think about warm grays and browns that will compliment the rest of the house.
Slateline
Tudor style steeply pitched roof will give you the opportunity to make the roof a major part of the curb-appeal of the home; slate or another premium designer shingle is an ideal fit because of this.
Camelot
This universal design can work well with this distinct architectural style. The classic slate lines in a warm color palette fit nicely with Tudor style homes.
Ranch Style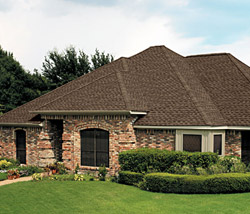 This was one of the most dominant architectural styles in the United states from the 1960s through present day architecture. Ranch style homes are characterized by their one-story design with very low-pitched roofs and very long and spread-out floor plans. In most cases, the roof will be larger than that of a two-story home, so the roof can have a big impact on the look of the home. Both style and color choices are wide-spread as this architectural style matches with a very wide variety of shingle styles and colors. Regarding color, more neutral tones are safe bets for this home including browns, black, and grays.
Grand Sequoia
Will give a distinct and very dimensional look to the roof, giving a better curb appeal to a more simplistic ranch design.
Grand Canyon
For a premium solution, get this ultra-dimensional version, our premium wood-shake option.
Timberline Shingles
Popular wood-shake look will match well with the architectural style of a the very versatile ranch-style house; with a neutral color pallet of browns, blacks, and grays, this shingle will have a lot of different color choices that will work well with this style home.
Our Certification Means a Better Warranty for You
GAF offers the best roofing warranties in the industry. And because Up and Above is GAF MasterElite certified, you can be assured that all manufacturer warranties on roofing materials are fully valid. This is an important consideration. A roofer who is NOT certified cannot guarantee your warranty will be in effect when and if you need it.
Get a FREE Estimate
Call Up and Above today at (973) 531-4225 for a FREE in-home consultation and estimate. Or simply complete and submit our request form and we'll contact you within one business day.