Soffit and Fascia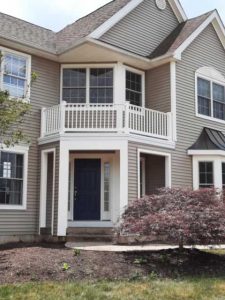 Homeowners may not be aware that the soffit, which is located under the eaves of a house, can be vulnerable to damage caused by water from torn shingles, poorly functioning gutters, ice dams, or even by birds and squirrels that nest behind it.
Up And Above Contractors, LLC will inspect your soffits and, if necessary, recommend the most cost-effective soffits for your home. There are different kinds of soffits, such as solid, center-vented and fully vented. The soffits that we install are fully vented to help your roof breathe. And the best part is they're maintenance free, with no painting needed.
The fascia is the flat, continuous piece of trim molding that is next to and perpendicular to a ceiling soffit. Sometimes fascia boards need to be replaced due to weather damage, or over time they pull away from the gutters. They're also subject to damage from bird nests, bee holes and squirrel holes.
Up and Above works with high-quality PVC-coated or smooth fascia boards. Plus, our fascia boards come in more than 50 colors! For New Jersey fascia replacement, let Up and Above make your home beautiful.
Get a FREE Estimate
Call Up and Above today at (973) 300-0636 for a FREE in-home consultation and estimate. Or simply complete and submit our request form and we'll contact you within one business day.