Beautiful, No Maintenance Vinyl Siding for Your New Jersey Home
Are you tired of scraping and painting your home every few years? The smart move to save time and money is by wrapping your home in premium vinyl siding, a material that is not only low maintenance, but provides additional energy-saving insulation for your walls.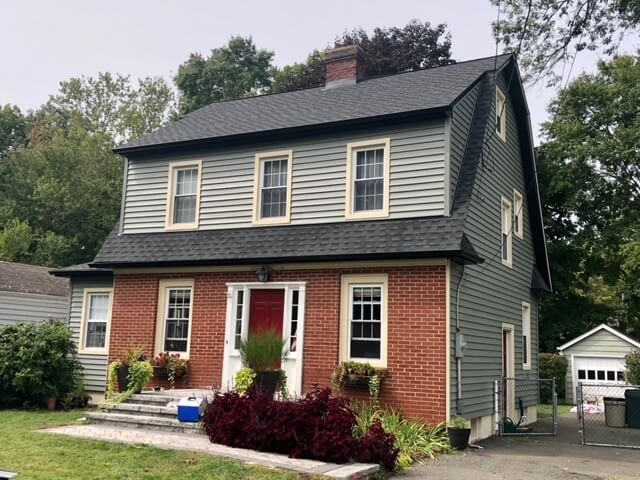 At Up and Above Contractors, our crews have years of experience in New Jersey vinyl siding installation. No other contractor in the area can match our skills as well as the high quality products we use from leading manufacturers. For vinyl siding New Jersey homes in Morris, Warren and Sussex counties, we're confident we can solve any siding problem and give your home greater curb appeal.
We are the experts in vinyl siding New Jersey homes
Up and Above Contractors is the New Jersey vinyl siding installer who best understands the needs of homeowners. Our siding systems are uniquely suited to protecting homes in New Jersey from the rain, snow, ice, hail and wind that make up our seasonal weather patterns. Vinyl siding is an effective way to help reduce home energy costs.
7 Reasons to Choose Vinyl Siding from Up and Above Contractors
Easy to clean
Never requires scraping and painting
Superior insulation value
Seals out dust and dirt
Cuts outside noise by 45%
Resists mold, mildew, insects
Enhances the beauty and value of your home
When properly manufactured and expertly installed by our factory-certified teams, our method of vinyl siding NJ homes delivers significant advantages, including:
Vinyl Siding Advantages
Structural Integrity – Top quality siding provides a protective shell for your home
Energy Efficiency – Vinyl siding increases your home's R-value, an important measure of the insulating capacity of any material.
Moisture Management – Properly installed and vented, vinyl siding allows moisture to escape, letting your home's wall breathe
Air & Noise Barrier – Vinyl siding prevent air infiltration that can rob your home's energy, and serves as a significant barrier to external noise
Professional Installation for Worry-Free Performance
Our siding installation crews have extensive experience and are factory-trained to help ensure that your home's siding is installed expertly. No detail is left out. Corners, window and door frames, soffits, eaves — every aspect of the job is executed with precision.
Have other projects that need professional attention? In addition to vinyl siding NJ homes, Up And Above Contractors, LLC provides a full range of home improvements, including roofing, insulation, replacement windows, doors, additions, decks, gutters and more.
Get a FREE Estimate on Vinyl Siding for your NJ Home
Call Up And Above Contractors, LLC today at (973) 300-0636 for a FREE in-home consultation and estimate. Or simply complete and submit our request form and we'll contact you within one business day. Check out some of the project photos here for installing vinyl siding in New Jersey. Call us today and schedule an appointment.