Get a Free Estimate for Roofing, Siding, Decks & More
Welcome to Up and Above Contractors, proud winner of the Silver Award for Best Contractor in the 8th Annual Reader's Choice Awards, presented by the New Jersey Herald. For 25 years, thousands of homeowners and local businesses have called on us to install roofing, siding, decks, gutters, replacement windows, and additions…plus interior remodeling like kitchens and baths!
We are a licensed and insured local roofer, serving Morris, Sussex, and Warren Counties.
An Award-Winning Contractor
Up and Above Contractors is certified by GAF, an American company (with corporate offices in New Jersey) and one of the world's largest roofing materials manufacturers. Being a Master Elite contractor means that GAF gives you its assurance that you are dealing with a reputable, licensed, and properly trained contractor. But, we're more than that. We're one of only two contractors in New Jersey to receive GAF's top 3 awards in 2012 — for Training, Installation, and Consumer Protection. Only about 125 contractors across the U.S. received all three awards. And in 2013, we were awarded the coveted GAF President's Award for performance and high customer satisfaction, given to relatively few contractors in the country.
A Wide Selection of Roofing Materials
Asphalt Shingles
Shingles are the most popular choice for roof coverings because of their low installation and maintenance costs. Shingles come in different grades. The better the grade, the longer the life expectancy, which can range from 15 to more than 30 years. We're pleased to offer GAF Timberline Shingles, which offer tremendous value in performance, style and quality. Many Timberline shingles have an awesome cedar-shake look, and our Cool Series products are made to reflect sunlight and reduce attic heat.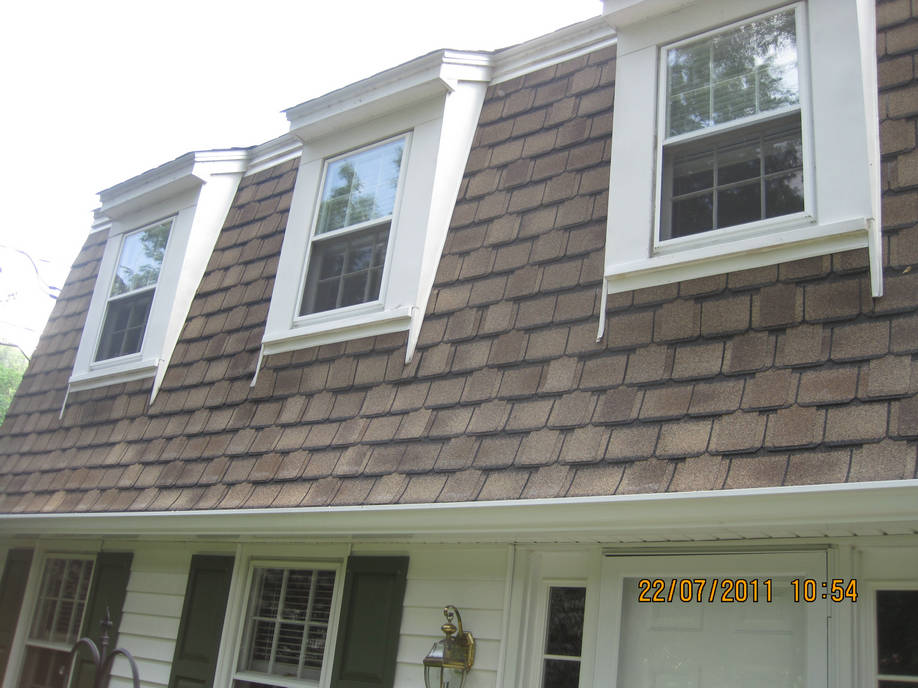 Metal Roofing
Durable and flexible in terms of looks, metal is becoming a more popular choice for many of our New Jersey customers who want a roof with a longer life span and little to no maintenance. Metal comes in a wide range of shapes, styles and colors. Metal roofs often last for 40 years or more and most come with a lifetime warranty. We've been installing metal roofs all over Morris, Sussex and Warren Counties — on homes, barns, and commercial buildings.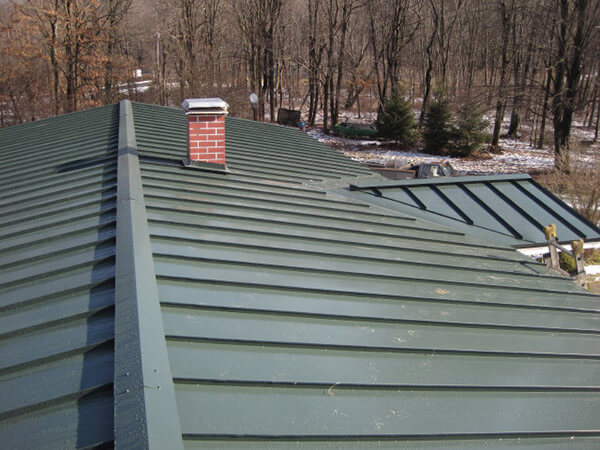 Slate Roofing
We've installed many slate roofs, and they are gorgeous. Slate is extremely durable and graceful, while offering low maintenance costs. Typical colors are grey, black and red. Like tile, slate carries the onus of extra weight and this high-quality roofing material tends to be more expensive. However, a slate roof can last over 100 years with little to no maintenance. It's easy to fall in love with a slate roof installed by Up and Above Contractors.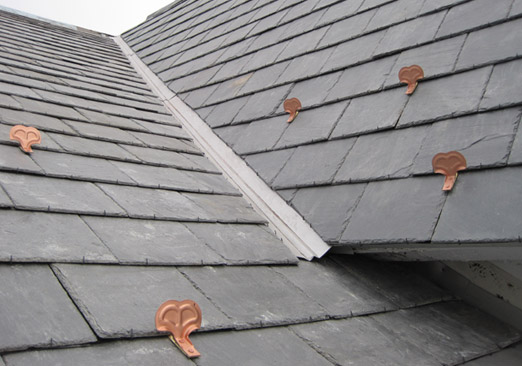 Tile Roofing
Homeowners are drawn to the aesthetics of tile — the look, texture and colors. Popular tile styles include mission, rounded and flat. Priced around the same as wood, tile is made of either concrete or clay and normally lasts over 50 years. Although there's little maintenance necessary, the underpinning for your roof must be able to handle the extra weight that tile carries and replacement costs are high. We can provide a lot of guidance to help you make the right decision.
Schedule a FREE Estimate for Roofing, Siding, Decks or Interior Remodeling
Call Up and Above Contractors today at (973) 300-0636 for a FREE in-home consultation and estimate. Or simply complete and submit our request form on this page.