Modern bathrooms create a stylish and fresh appeal. From bright and simplistic, to grand and classy, these modern details have long gone beyond the limit of space.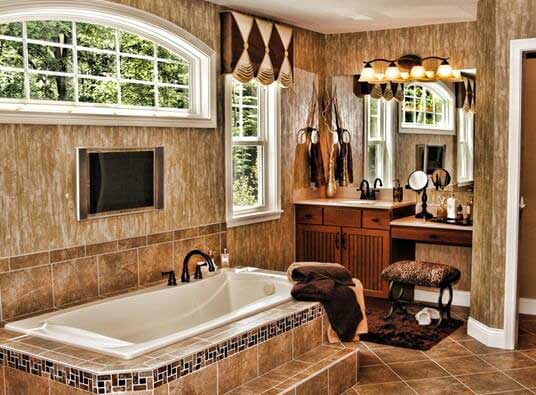 Up and Above Contractors is the top company when it comes to roofing in Hopatcong, NJ. In this post, we list four design ideas for an up-to-date bathroom. With these ideas, you can enjoy more years of comfort and pleasure from your bathroom.
1. Choose appropriate surfaces
The surfaces in your bathroom do more than just add to the overall visual appeal. These can handle all the strain of your daily bathroom routine. Porcelain tile is a popular option for floors and walls. Go for large sizes so that you can minimize grout lines and ease the maintenance.
When it comes to the countertop, you can install granite or quartz, due to their sturdiness and aesthetic value.
2. Provide adequate light and ventilation
Lighting is a crucial part of modern design style in the bathroom. Keep in mind that the quality of the light is more important than the fixture itself. Skylights and wall sconces are great ideas for modern bathrooms, since they add more natural light, with no shadows.
3. Hide the toilet
Your bathroom can be stylish and functional, but also discreet. You can veil this fixture behind a half wall or create its own space. If you don't have much room, a simple piece of furniture can create a basic barrier without the expense of a framed wall.
4. Incorporate luxury into the room
If you have ample space, you can transform your bathroom into a personal spa. After all, a modern bathroom is a haven for both privacy and relaxation. You can place a TV, exercise equipment, and even a large makeup vanity inside the bathroom for a customized retreat.
Remodeling your bathroom is a huge project. That's why we offer several financing options – a key feature that sets us apart from other Byram Township, NJ roofing contractors. There are no forms to fill out, no application fee, no closing costs, and no pre-payment penalties. We make it easy, so that you can begin your project right away!
Redefine your living space today by calling Up and Above Contractors at (973) 300-0636 for a FREE in-home consultation. You can also fill out our request form and we'll contact you within one business day.