Choosing the right contractor for your roofing project can be difficult. One way to separate the best from the rest is by checking on their awards. These indicate that the contractor meets or exceeds rigorous standards of quality, and is in good standing with their customers. Award-winning companies can give you the best possible roof project experience.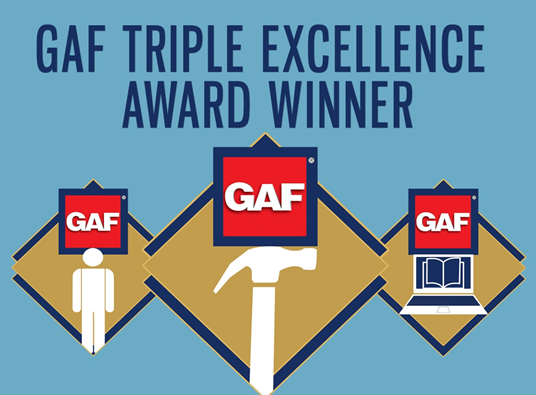 Up and Above Contractors is proud to announce that we garnered recognition in GAF's Excellence Awards.
The Installation Excellence Award
The Installation Excellence Award means that we have had multiple "perfect" roof installations, based on GAF's strict inspections. In addition, contractors need to have a clean record when it comes to installation complaints. Your roof's performance depends on proper installation, so be sure to work with proven Byram Township, NJ, roofing contractors.

The Consumer Protection Excellence Award
This award means that we have an exceptional understanding of the benefits of installing complete roofing systems. GAF backs these systems with a first-class warranty for your peace of mind.
We can properly install GAF's Lifetime Shingles, Cobra® attic ventilation, Deck Armor roof deck protection, leak barriers, starter strip shingles, and ridge cap shingles. These accessories, in combination with GAF's shingles, will give your roof exceptional protection against the weather.
The Training Excellence Award
This award shows that we have shown an outstanding commitment to continuous improvement and ongoing technical training. This award reflects our desire to perform the best roofing in Hopatcong, NJ, and the surrounding areas. Every year, we undergo training and testing with GAF to keep us up to date with the latest roofing technologies and techniques. We employ this knowledge with all of our projects, giving our customers the topnotch roof they deserve.
These awards are evidence of our commitment to quality roofing and to exceeding the expectations of customers. We've mastered the installation, maintenance, and repair of GAF's full range of products, so you can be sure your roof project is in very capable hands. In addition, our decades of experience mean we can easily analyze your unique situation and provide you with the best solutions.
Call us at (973) 531-4225 to learn more about our products and services or to get a free estimate.