Hurricanes, blizzards, and hailstorms are a regular occurrence in Mid-Atlantic states such as New Jersey, but that doesn't mean that everyone should just let them have their way. According to the Press of Atlantic City, the state has received a significant portion of the $60 billion aid package from the Federal Emergency Management Agency to boost its storm protection capabilities: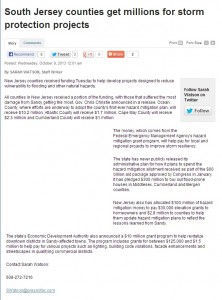 All counties in New Jersey received a portion of the funding, with those that suffered the most damage from Sandy getting the most, Gov. Chris Christie announced in a release. Ocean County, where efforts are underway to adopt the county's first-ever hazard mitigation plan, will receive $10.2 million. Atlantic County will receive $1.7 million, Cape May County will receive $2.3 million and Cumberland County will receive $1 million.
Cleaning up the mess left behind by Sandy and making sure properties are better protected against other storms is a daunting task, but this is not a problem for the dedicated roofers of New Jersey. Trusted NJ roofing professionals, such as Up and Above Contractors, even offer free roof damage inspections to residents of the areas where they are based. They can also construct durable roofing systems thanks to their access to high-quality materials and many years of experience.
It is often advised that homeowners seek professional help when it comes to roof inspections and repairs/replacements, especially after a major storm. Not only is it very risky for ordinary people to go on the roof and assess the damage by themselves, they may not also know what a "roofing system" is in the first place. As the name implies, this system is a collection of shingles, underlayments, flashings, gutters, and the like, each requiring a different approach whenever they need fixing or replacing.
For example, blown-off roof shingles are fairly easy to replace unless the underlayment that holds them together is also damaged. Whether they are Morris or Sussex, NJ roofing contractors, professionals will prioritize fixing the underlayment because this thin layer of tar paper or synthetic material is the one that actually protects the house from water infiltration.
Atlantic City and other areas in New Jersey may now have the funding for storm repairs, but individual repairs and precautionary measures fall on the shoulders of all the John and Jane Does out there. It will be in their best interest to work with professional roofers while they're at it.
(Excerpt from South Jersey counties get millions for storm protection projects, Press of Atlantic City, October 9, 2013)