Hopatcong High School in New Jersey was one of the places that served as a temporary shelter for people displaced by Hurricane Sandy after it battered the Atlantic coast of the United States last year. In the aftermath of the super storm, the school, though unprepared, willingly opened itself to more than 200 people seeking a refuge, in addition to hundreds of other daily visitors that came to use its facilities to shower and stay warm.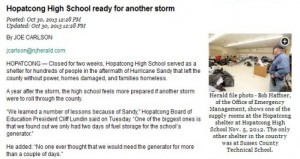 An October 30, 2013 report from the New Jersey Herald examines the school and its preparedness for another force as devastating as Hurricane Sandy. The article reads:
"We learned a number of lessons because of Sandy," Hopatcong Board of Education President Cliff Lundin said on Tuesday. "One of the biggest ones is that we found out we only had two days of fuel storage for the school's generator."
He added: "No one ever thought that we would need the generator for more than a couple of days."
Hopatcong High School is also now aware of what else they need to be a more efficient shelter, besides powerful generators: adequate food provisions, rooms for house pets, volunteers to accompany sex offenders, and many other supplies and directives that will address the concerns they had a year ago.
Aside from the school, local residents should also be prepared for natural disasters. While it is true that the local government will always try to provide the best for people stricken by calamities, damage to homes will be less severe and costly if residences are kept properly. Right after Hurricane Sandy left communities inundated and damaged, many trusted Hopatcong, NJ roofing contractors, such as Up and Above Contractors, were kept busy by calls for repairs to roofs and other parts of the home.
Many experts in home improvement still believe that the best defense against damage is to keep a house protected throughout the entire year, rainy season or not, through proper maintenance. In this manner, the roofing system, gutters, and the rest of the house exterior will be enabled to do their best in what they're supposed to do—protect the people and the things that take shelter in them.
Get in touch with Up and Above Contractors, experienced Hopatcong and Randolph, NJ roofing contractors now for free estimates and to see how you can strengthen your homes for any coming calamities.
(Article Excerpt and Image from Hopatcong High School ready for another storm, New Jersey Herald, October 30, 2013)