Nobody can deny that vinyl remains one of the most popular siding materials in the country. Probably due to its popularity, vinyl somehow even manages to play a role in revitalizing the country's real estate market. According to a news article from the Poughkeepsie Journal: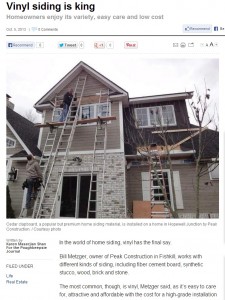 U.S. Census Bureau figures show of the 368,000 single-family homes sold in 2012, 110,000 were built with vinyl siding as the principal type of exterior wall material, while only 11,000 used wood.
Vinyl siding is so popular as a material that it's been the top choice for exterior cladding for new single-family homes for 16 years running, according to the Vinyl Siding Institute in Washington. In the Northeast, vinyl is the siding of choice by far, taking 84 percent of the market share. In the Midwest, it leads at 70 percent of the market and in the South it's at 30 percent, which is second only to brick.
Polyvinyl chloride or PVC (or simply vinyl) has been around since the 1960s and is well-known today because of its affordability, durability, and ease of maintenance. As a siding material, vinyl comes in many design and color options, with some manufacturers even offering patterns that mimic the texture and aesthetics of other materials like cedar and brick. However, the main advantage of vinyl is its cost-effectiveness. Vinyl sidings barely need repainting and can be cleaned simply by using a pressure washer at home.
The only concern that homeowners have with vinyl is its relatively short service life. Compared to other materials, vinyl sidings can hold up for about 10 years, even with proper care. However, they are easier to replace and many contractors prefer them over other materials that are difficult to work with. For example, wood may last a few years longer than vinyl, but it has to be protected from moisture using wood preservatives, which bring added cost and labor. This is why vinyl is an option recommended by reliable NJ siding contractors like Up and Above Contractors, which specializes in installing CertainTeed insulating vinyl siding on homes in Sussex, Warren, and Morris counties.
The effectiveness of vinyl sidings can be enhanced even further if they are installed by highly trained contractors who put great stock on their workmanship. Whether it is for siding in Sparta, NJ, Sussex, Rockway or elsewhere in the state, vinyl is still one of the best materials to use.
(Excerpt from Vinyl siding is king, Poughkeepsie Journal, October 5, 2013)