Your roof has an important role in keeping your home safe from harsh weather conditions, which is why hiring the right roofer is critical. You only want the best contractors to handle this home improvement project because roofing systems are complex. To function effectively, each part of the system requires proper installation. Up and Above Contractors discusses the four important questions you must ask roofers before hiring them.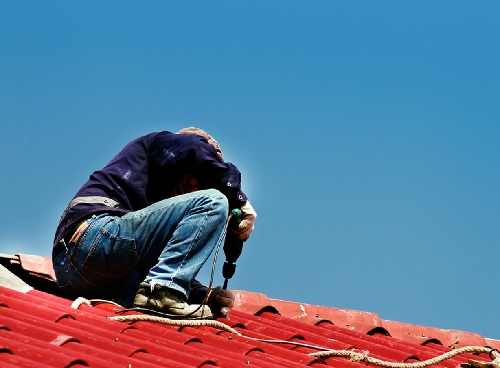 1. Ask About Their History
A long and reputable history is a good indication that a contractor is qualified to handle your project. Lasting for years in a competitive and ever-changing environment means that the contractor is adaptable, informed of current trends, and reliable. Quality of work means nothing if it can't be duplicated repeatedly for every single project.
Up and Above Contractors has been in business since 1993. Our decades of experience mean that we can handle a wide variety of roofing projects, having served thousands of satisfied customers. Among NJ roofing contractors, we have a reputation for courteous, dependable, and professional service.
2. Ask About Their Awards
Excellence cannot be determined if there are no standards to follow. Awards are a good way of gauging the skill and quality of a roofer's work. Unbiased third-party observers award contractors who demonstrate a level of service above and beyond the norm.
We are honored to be one of only two roofing companies in NJ to receive three awards in 2012 and 2013. GAF, the largest roofing shingle manufacturer in America, has awarded us Excellence awards for Consumer Protection, Installation, and Training. When we work on your project, you can expect to receive award-winning service.
3. Ask About Their Certifications
Even the best product in the world will fail if the installation is faulty. A roofing company without any certification cannot guarantee homeowners that the manufacturers will honor their warranty. Worse, homeowners are at the mercy of a contractor without sufficient knowledge.
This is why you should only go for certified roofing contractors in NJ like Up and Above Contractors. We are certified by our manufacturers, and our supervisors, and installers are factory-trained on the latest methods and best practices. Certification means that we are experts in all aspects of the products we will use on your home. You can count on our expertise to help make your home better.
4. Ask About Their Testimonials
Finally, one of the best ways to see if a contractor is worth hiring is to consult with other homeowners. Up and Above Contractors is proud to say that our neighbors have given as five star reviews nearly across the board. Additionally, our work is present in and around the neighborhood as we are a local company.
Make Up and Above Contractors your choice of roofers, as our experience, awards, certifications, and testimonials make us one of the leading roofing contractors in New Jersey. We are experts in making your home a more comfortable and beautiful place to live in. Give us a call if you would like to learn more about our services. We also provide a free estimate.