As people gather around the table this holiday season and give thanks for the things that made 2013 a great year, people who include their roofing systems on their list of things to be thankful for are few and far between. While people celebrate the holidays with their loved ones in the warmth of their homes, roofing systems are working tirelessly to prevent snow from damaging homes.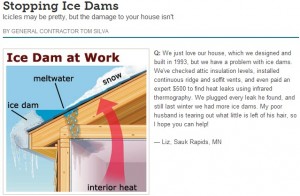 The winter season can be a trying time for roofing systems, especially in areas that receive copious amounts of snow. The snow and freezing temperatures can easily turn small problems into a need for major home repair. With this in mind, be sure to call experienced NJ roofing contractors the moment you spot any of these winter roofing problems:
Ice Dams
According to an article from This Old House, ice dams are a common problem roofing experts, like those from Up and Above Contractors, see in residential roofing systems:
Ice dams are caused by air from the house warming the underside of a snow-covered roof in freezing weather. As the snow above the warmed area melts, water trickles down to the eaves, which are typically colder than the rest of the roof. If the water turns to ice on the eaves and builds up enough to form an ice dam, the meltwater coming down the roof pools up behind it and gets under the shingles and into your house
Icicles
Icicles can be caused by ice dams, clogged gutter systems, or a combination of both. Although some icicles are lovely to look at, these icicles can easily fall and injure unsuspecting passers-by. In addition, the weight of these icicles can easily tear down a gutter system and parts of your roof.
Although homeowners can easily go up to their roofs and get rid of these problems themselves, doing so is dangerous; a careless DIY enthusiast, for one, could get into an accident on his own roof. Therefore, hiring reputable roofing contractors in NJ is the safer alternative. As such, do not hesitate to call a roofing contractor if your roof is exhibiting signs of damage this winter season.
(Article Excerpt and Image from Stopping Ice Dams, This Old House)