Joe Provey recounted his experiences being on the opposite ends of the roofing business, namely as a customer (today) and as a DIY roofer (35 years ago). If there is one thing he can say about the trade after practicing it himself, it would be that not all roofers are the same in terms of skill, reliability, honesty, and efficiency. "Professionalism" is one of the three things he looked for in every contractor he comes across nowadays; a term which can be quite a subjective by current standards.
By his definition, professionalism amongst roofing companies comes as years of service, certificates, continuous training, partnerships with roofing brands, and the like – things that can't be found easily in many contractors from states like New Jersey. Luckily, there are some roofing contractors in NJ who understand the importance of upholding their brand's quality and integrity, as evidenced by testimonials and reviews from individuals and former customers. In particular, the guys from Up and Above Contractors take pride in the recognitions they have received in the business thus far.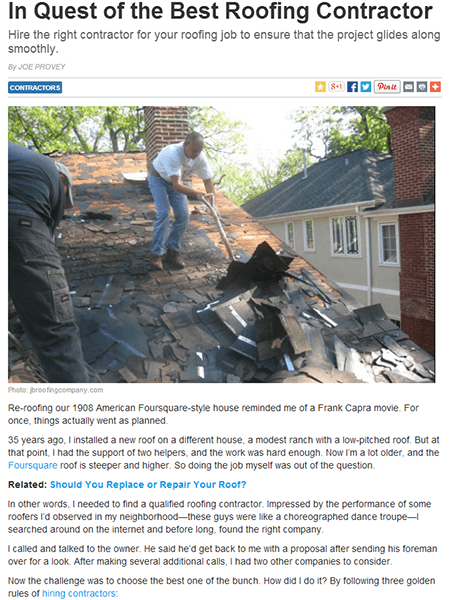 However, a few accolades don't make a reliable and commendable roofing company necessarily; it is the services and skill that they bring to the table. Provey also says that one of the hallmarks of an excellent roofing contractor is when the people they send go above the call of duty, offering services that are not heavily advertised in their ads and websites. In the case of some of the best roofing contractors in Sussex, NJ, they tend to provide standard roofing services as well as a number of extras such as green roofing, skylight installation, and window repairs (to name a few).
On top of that, these contractors often have reliable warranties and licenses designed to protect the interests of their customers first. For instance, Up and Above Contractors have a $2 million liability and workers' compensation insurance policy that would protect their customer's property in the event of an accident occurring at the worksite. They also made it clear that their service areas only include Pennsylvania and New Jersey, because it's important for roofers to inform their customers about the limitations of their services.
As it turns out, "professionalism" is more than just a fancy label any contractor can add to their name. It is a manifestation of traits and services that not all roofers may be able espouse or offer. Not all professional roofers are the best, but the best roofers are always professional.
(Article Information and Image from In Quest of the Best Roofing Contractor, Bob Vila City, undated)