When it comes to roofing repair and maintenance, homeowners in Randolph, NJ should keep in mind that there are tasks that they can do on their own, most of which are minor and relatively easy. The moment they need to consult DIY guides or instruction manuals, however, then their best bet would be to leave the job to the pros. It goes without saying that leading roofers in NJ have more experience and know-how compared to the average homeowner, but here are more specific reasons why hiring a professional roofing contractor stomps DIY: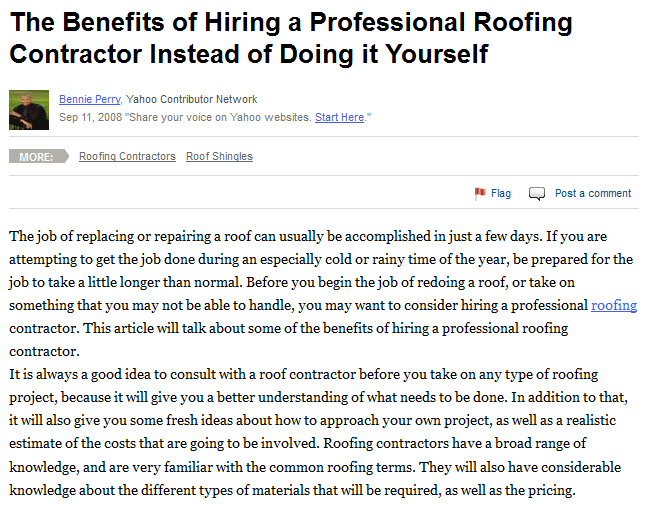 Save Time and Energy
Repairing the roof yourself can take anywhere from several days to a week, depending on how much time you're willing to spend on the project. On the other hand, professionals with their specialized abilities, tools, knowledge, and teamwork, can accomplish a roofing project within the day or in just a few days.
Skill and Work Efficiency
An article from Yahoo! Voices highlights the importance of working with highly capable roofing contractors:
It is always a good idea to consult with a roof contractor before you take on any type of roofing project, because it will give you a better understanding of what needs to be done. […] Roofing contractors have a broad range of knowledge, and are very familiar with the common roofing terms. They will also have considerable knowledge about the different types of materials that will be required, as well as the pricing.

A roofing contractor will be able to expertly install new roof shingles, whether you are replacing an old roof or building one from scratch. They will also have the knowledge and expertise to inspect your roof and make suggestions on how to effectively repair your existing roof. They will also be able to determine if it is weather tight and secure.
Codes and Regulations
Prior to taking on home improvement projects, particularly major reroofing or repairs, you ought to know that there are building codes and regulations that you have to abide by. Fortunately, you don't have to do a lot of research and deal with boring legalities when you hire trusted roofers in Randolph, NJ like Up and Above Contractors. They've been in business long enough to know the rules and policies that come with every type of roofing job.
(Article Information and Image from The Benefits of Hiring a Professional Roofing Contractor Instead of Doing it Yourself, Yahoo! Voices)