Regardless of whether you own a residential or a commercial structure, a deteriorating roof can a major headache. Replacing them can be pricey, depending on the roofing type and material. While traditional roofing materials have been here for quite some time now,  the roofing industry is starting to embrace innovative options, which presents better alternatives for replacement and repairs.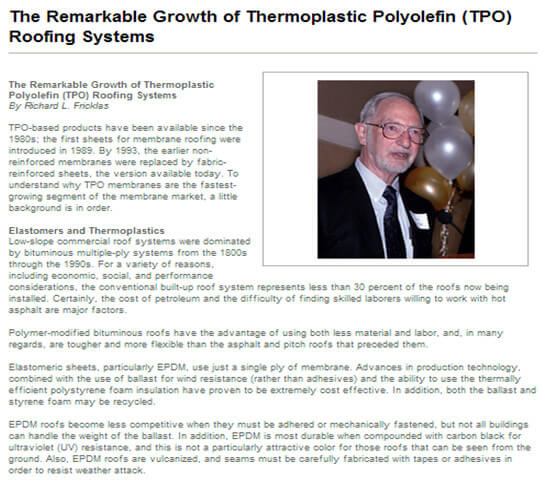 Tar and gravel roofing systems are still ideal in commercial roofing because of its minimal upkeep and affordability. Some roofing contractors in Sparta NJ, however, are starting to use new products that contain "Thermoplastic Polyolefin" or TPO roof membranes. These provide the same benefits of other materials but at a much lower cost. While you can choose EPDM (ethylene propylene diene monomer)rubber roofing, TPO roofing is a more effective solution according to this article on buildings.com:
EPDM roofs become less competitive when they must be adhered or mechanically fastened, but not all buildings can handle the weight of the ballast. In addition, EPDM is most durable when compounded with carbon black for ultraviolet (UV) resistance, and this is not a particularly attractive color for those roofs that can be seen from the ground. Also, EPDM roofs are vulcanized, and seams must be carefully fabricated with tapes or adhesives in order to resist weather attack.
In general, TPO membranes combine the EPDM's UV-resisting properties and PVC's heat-weldability. Depending on the color used, TPO membranes can enhance the look of your entire structure. You can also use PVC membrane along with TPO, making them a secondary roof layer and a water barrier. This system is quickly becoming the top option among different types of industries. From excessive cold and heat to strong winds and the most hammering downpours, this revolutionary and practical roofing technology offers substantial protection against any kind of weather.
Keep in mind, however, that the most important factor that will contribute to TPO's durability is a proper installation from qualified professionals. Among the Hopatcong NJ roofing contractors, Up and Above Contractors excel for providing quality professional roofing services for commercial and industrial properties.
(Article excerpt from The Remarkable Growth of Thermoplastic Polyolefin (TPO) Roofing Systems – buildings.com)