A green roof is one of the most talked about innovations in the industry. Not only does it create a new look for your property, but it offers plenty of benefits, as well. These benefits include decreased air pollution, enhanced water quality, increased energy savings, and improved human health.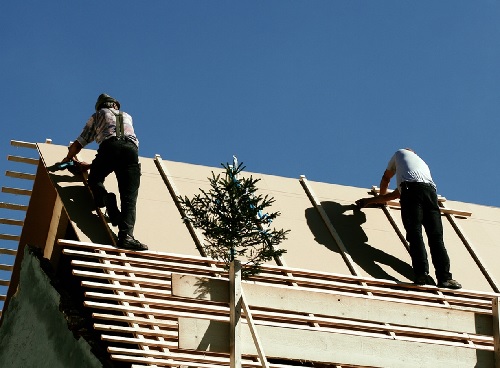 Seeing how green roofs can make many homes better, we grabbed the opportunity to become a certified installer. Up and Above Contractors is one of your local roofers in Sparta, NJ, that is certified by GAF to install green roofs.
What Does It Mean to be a GAF Certified Green Roofer?
One of GAF's advocacies is to promote sustainability in all areas of their business. That is why they promote green industry practices such as recycling, energy efficiency, and material optimization. GAF Certified Green Roofer Program aims to create leaders in green building movement. It is developed in consultation with the United States Green Building Council (USGBC), a non-profit organization that equally supports sustainable movements.
GAF is the only company that is associated with recyclers locally, and even sponsors the Find-A-Recycler part on Shinglerecycling.org. As a GAF Certified Green Roofer, we are committed to ensuring overall sustainability in our business, such as recycling shingles. Asphalt shingles is the country's most popular and recyclable material; 80% of roofs and 94% of roads are made up of asphalt. Due to its abundance and usefulness, asphalt's ability to be reprocessed is indeed a gift to humanity.
How Can Homeowners Benefit from Up and Above Contractors?
Our green roofs help conserve natural resources. Since going green can't be a one-man endeavor, we share our knowledge to customers and colleagues. This way, our green advocacy will continue to live on. In fact, it's not just green roofing; Up and Above Contractors installs a wide range of eco-friendly products, such as:
• PVC Flat Roofs
• Metal Roofs
• GAF Timberline Cool Series Shingles
• GAF TruSlate
• GAF White Shingles
We are one of the top roofers in NJ, which ensure quality and excellence in every product that we install. Home and building owners alike can enjoy energy savings, better-quality protection, and beautiful roofing that can last long.
If you're interested to learn more about our sustainable roofing products, call us at (973) 531-4225 today. We'll be happy to give you a FREE in-home consultation and estimate.