The perfect roofing system would have the natural beauty and ultimate allure of slate or tile roofing with the sheer strength and dependability of metal roofing. That's why, to give homeowners the roof they deserve, CertainTeed offers their new Matterhorn® Metal Roofing.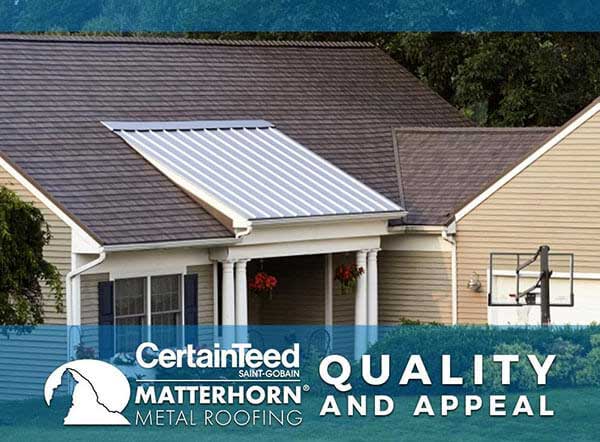 Here's a look at all the qualities that make it a perfect replacement roof for your home.
Unique Look
With copyrighted colors and irregular gates, you get a unique-looking roofing system that will let your personality show. The Matterhorn Metal Roofing series features colors designed to recreate different stone hues. You also have the option for patented paint applications that replicate naturally mottled slate looks.
Eco-Friendly and Energy Efficient
The Matterhorn Metal Roofing is fully recyclable. This makes it ideal for environmentally-conscious homeowners who want to minimize their carbon footprint as much as possible. Because of this, it offers superior energy efficiency and ultimately allows you reduce energy costs.
Dependable and Lightweight
The Matterhorn Metal Roofing is the expert roofing contractor's dream. Aside from the undeniable appeal of its slate roofing look, the fact that it's authentically crafted and rendered in steel gives it the dependability to shield homes even from the harshest of weather conditions.
When it comes to your home's roofing system, don't settle for anything less than superior protection and exceptional overall appeal. CertainTeed's Matterhorn Metal Roofing offers that and so much more.
Up and Above Contractors, LLC. is the roofer you can depend on for superior products and exceptional workmanship. We've been the top choice of New Jersey since 1993. We serve residents and business owners in Morristown, NJ, and nearby areas. Call us now at (973) 300-0636 for a free estimate of your next Matterhorn roof.