Many contractors will promise you the best quality products and services, but not all of them can actually deliver. If you're finding it hard to look for the right contractor, it's best to choose one with manufacturer certifications. Up and Above Contractors, the premier local roofer, has received various certifications and awards over the years. Here are some of them: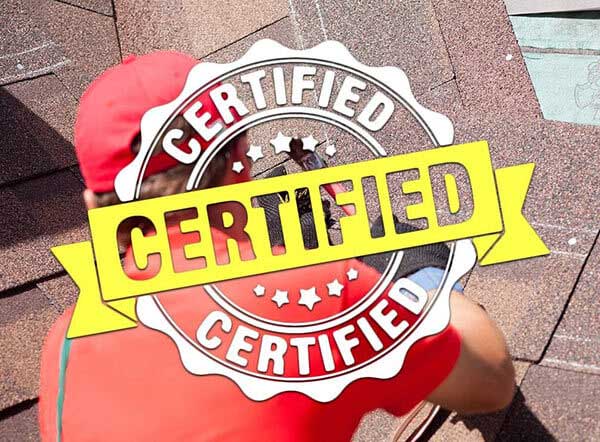 GAF Master Elite™
This designation is given only to the top 3% of roofers in the country, and as a certified contractor, you can enjoy numerous benefits when you work with us. For one, you can be assured of professional workmanship. Master Elite contractors undergo special training to ensure that they stay updated on the latest in roofing installation techniques and practices. We also have access to the brand's extensive educational materials and top-notch products.
Training Consumer Protection Award
This award indicates that a roofing contractor possesses an exceptional understanding of the importance of installing a complete roofing system with superior warranty protection. We can make sure that all your roof's parts are working together to protect your home all year round. We'll also offer you the brand's top-tier warranty, which only comes with their Lifetime Roofing System.
Training Excellence Award
Our Training Excellence Award is proof of our dedication to constantly improve our services. Due to our commitment to ongoing technical training, we make sure our team is constantly updated on the latest advancements in the roofing industry. This way, you can expect no less than quality service from us each and every time.
Installation Excellence Award
This signifies that a contractor has provided multiple "perfect" roof installations based on GAF's quality inspections. This is the manufacturer's stamp of approval on flawless roof replacements. in other words, we can install any GAF roofing system to perfection. We'll provide you with a high level of workmanship, eliminating any chances of installation-related issues.
Why are these certifications important? This means that any manufacturer warranty we provide is valid. Installing products without the proper certifications invalidates the warranty, leaving you responsible for any problems. If you want a worry-free replacement, turn to Up and Above Contractors today. We serve communities in Morristown and the surrounding NJ areas. Call us today at (973) 300-0636 to get started on a roof replacement today. You can also get a free estimate.