Your exteriors sustain the most damage during the worst weather outbursts. It's important that you keep your siding in good shape to ensure your family's protection under any weather condition. If your siding suffered major storm damage, you need to replace it immediately.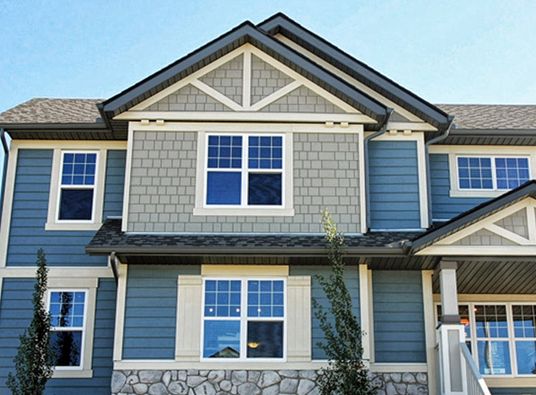 As one of the most reliable siding contractors in NJ, Up and Above Contractors understands how vital your siding is to your home. To help enhance your home's functionality and curb appeal, we offer a wide range of James Hardie® products.
The Leading Brand
James Hardie is the country's top brand of fiber cement siding. Their siding products protect over 5.5 million homes in America.
Recently, James Hardie earned Hanley Wood's 2015 Brand Builder Gold Award for Best Digital Advertising Campaign. This is due to the brand's excellent contribution on the "American Character" campaign, which emphasized James Hardie's craftsmanship, integrity, and authenticity.
Hanley Wood is a company that works on news and analysis on the construction industry. It developed the Brand Builder Awards to recognize marketers who provide exceptional product campaigns.
Why Install James Hardie Siding?
James Hardie siding in Sparta, NJ, and the local regions offer many benefits, including:
Performance and Durability – James Hardie siding can protect your home from storm, water, fire, and pests for many years. Unlike other options, we use fiber cement to bring optimum protection from the elements. Rest assured that our products could withstand any weather condition without causing rot or any other damage.
ColorPlus® Technology – James Hardie siding is available in many exquisite colors, but with ColorPlus Technology, you'll also enjoy a lasting effect. This innovation allows our products to maintain their beauty longer than a typical paint job could offer.
Return on Investment – You can add value to your home by investing on James Hardie siding. Siding replacement using fiber cement provides the best ROI at resale.
Up and Above Contractors is certified by James Hardie making us your top choice for your siding in NJ. Our products come in a wide range of styles and colors that will surely suit your needs.
Learn more about our products and services by calling us at (973) 531-4225 today. We'll be happy to assist you via a FREE in-home consultation.