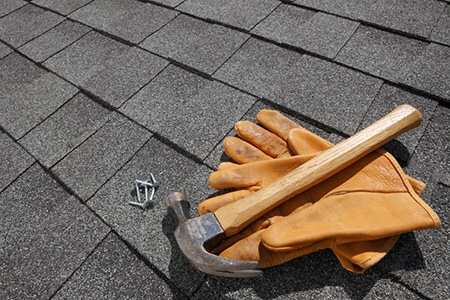 It's a fact that the most common cause of roof failure has nothing to do with the roofing materials themselves. Faulty installation is far more likely to lead to leaks and other problems, which is why it's so important to hire a contractor with a long track record of quality workmanship. The life of your roofing system depends on it.
Here are some of the issues you could be faced with should you NOT hire roofers in New Jersey who have been properly trained and certified.
Incorrect shingle nailing. Manufacturers give specific instructions on how to fasten shingles, but too often they're improperly nailed. When nail guns are used and the pressure is set too high, nails will be overdriven into the shingle mat. This increases the likelihood that they will blow off and leak, and voids the warranty. Similar problems result from underdriven nails.
Improper moisture barrier. All roof installations should include underlayment beneath the shingles to deter water penetration. An additional waterproof membrane should be installed along eaves and valleys, the most vulnerable areas. If a roofer doesn't address these components before installing shingles, you can bet leaks will happen.
Flashing neglect. Your roofer should not cut corners by reusing old flashing on a new roof installation. There may be small punctures or other damage that could threaten the new roof. Insist on new flashing when your roof is installed.
Avoid these amateur workmanship problems by choosing Up and Above Contractors to install your New Jersey roofing! We're a GAF Master Elite™ certified roofer that's been serving area homeowners for 20 years. Call us at (973) 531-4225 for a FREE estimate on a beautiful new roof, or for help if your current roof was improperly installed. We look forward to serving you.