Your outdoor deck is an important investment so it deserves proper maintenance. The use of a pressure washer is one way to help restore its overall appearance. But there are some steps that you need to remember when cleaning your deck using a pressure washer.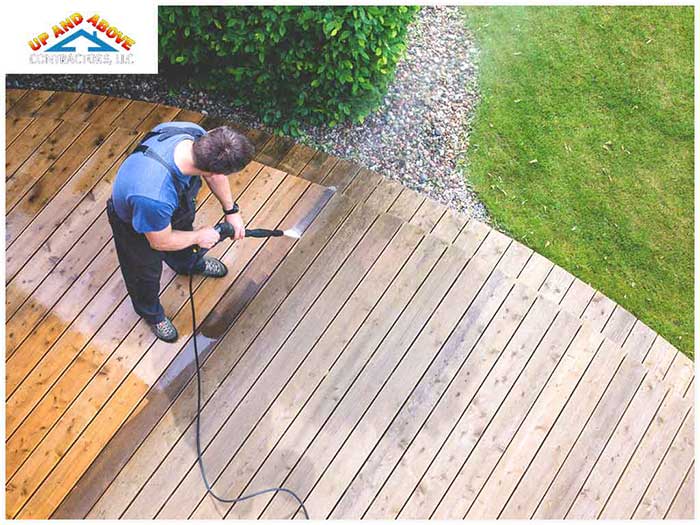 Choosing Your Pressure Washer
It is a good idea to rent a power washer if you think you'll won't use one in the future. Then again, you can purchase an electric-powered machine that costs less than the amount it costs to rent a gas-powered one. It is easy to store in your shed and can be used for other tasks like cleaning your siding, outdoor furniture or even your motor vehicle.
Clearing Debris
Now that you've acquired the hardware, it is time to begin cleaning your deck. However, you won't be using it just yet. Any loose debris on the deck surface must be swept off with a broom. Using a blunt knife or paint scraper, work the gaps in between boards to clear away stubborn dirt. Check for signs of rot and deformed boards as well, and replace them accordingly.
Soaping the Deck Surface
Soap the decking surface first to make sure stubborn dirt is removed once pressure-washed. Most washers have a soap reservoir, but if yours doesn't, you can instead mix a detergent solution in a bucket. Spread it throughout the deck surface with a push broom. Let it sit for about 30 minutes.
Using the Power Washer
Once 30 minutes has elapsed, it is now time to use your pressure washer. Wash each board one by one, working from one end to another before moving to the next. Be sure that you are using the right nozzle for the job. Green and yellow nozzles release medium to high pressure for lifting dirt off and deep cleaning the surface. More importantly, maintain the nozzle tip's distance to at least 6 inches from the deck.
For your home improvement needs, trust Up and Above Contractors. Apart from working on roofing and outdoor living projects, we also install quality replacement windows and doors, siding and gutters. Give us a call at (973) 300-0636, or fill out our contact form to request a free estimate. We serve Northern New Jersey residents.