Before 2013 drew to a close, the New Jersey Schools Development Authority (NJSDA) allotted about $508 million for roofing and HVAC improvement projects for the state's 331 school districts. According to the Press of Atlantic City, the purpose of these projects for 2014 is to improve safety, security, and comfort at the schools in Atlantic, Cape May, and other Counties. For the schools in Egg Harbor City, however, they will use their share of the funds of about $1.2 million primarily for roof repairs.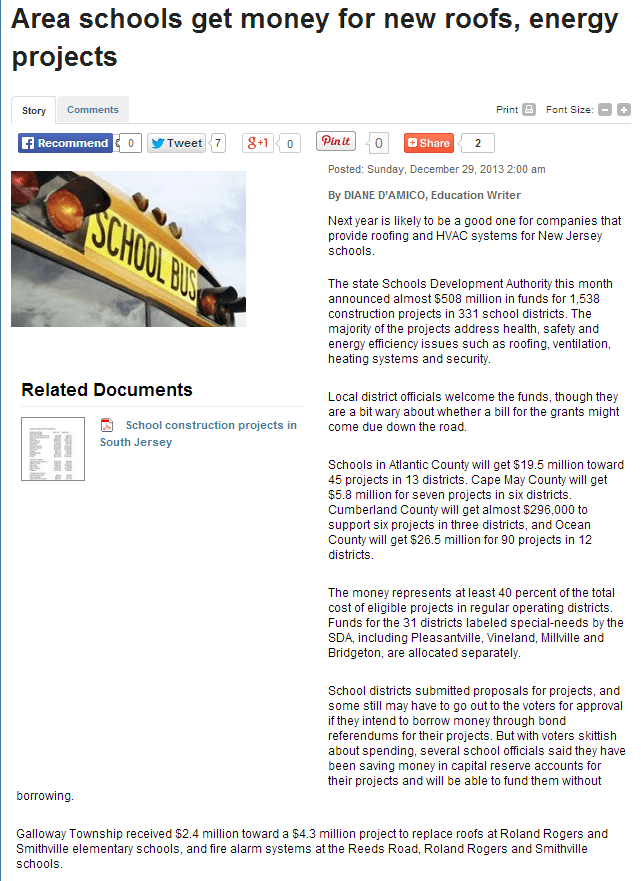 Not all organizations, let alone households, are blessed with this large budget to pay for roof maintenance, but it just goes to show that New Jersey takes roof problems very seriously, so much so that most NJ roofing contractors like Up and Above make sure that roof repairs are a standard service for their clients. Of course, these people can do more than just simple patch-up jobs and extensive roof restoration projects. With the right roofers, a household can afford an energy-efficient and structurally-sound roofing system.
The NJSDA that with the budget provided, schools would take the opportunity to retrofit their existing roofing system with more energy-efficient materials, as well adopt better HVAC systems and more reliable ventilation. The federal government's ENERGY STAR program can help school authorities and homeowners alike find the right roofing products that will let them save as much as 10 to 15 percent on their energy bills. The benefits may be different among households, though, so the Energy Department also recommends consulting with their Roof Savings Calculator.
When it comes to durability and structural integrity, government regulations are a lot more complicated. Not dwelling on specifics, there are requirements for water-tightness, rigidity, and wind resistance that can only be met by passing inspections and tests. Since these UL90 and UL850 procedures sound alien to most people, they should work with reliable roofing contractors who are likely to be familiar with these requirements. Roofers like those from Up and Above Contractors fit this description quite well since only a few Sussex, NJ roofing companies have been certified by renowned roofing brands, like GAF, and local institutions, like the New Jersey Herald, for their excellence and adherence to regulations.
While not everyone can pull off the large-scale maintenance projects that the NJSDA has in store for 2014, ordinary people can do the same thing by hiring the right people for any construction work. In this case, they should give reliable NJ roofers a call for their roofing woes this year.
(Article Information and Image from Area schools get money for new roofs, energy projects, The Press of Atlantic City, December 29, 2013)