According to an article written by Tom Wright of The Star-Ledger, Hopatcong, New Jersey residents should brace themselves for a snowy Thanksgiving: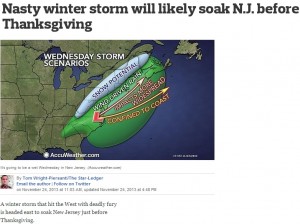 … the winter weather system is expected to continue across the South before it heads up the Atlantic coast and drops rain and snow on the Northeast through Wednesday, according to the National Weather Service.
Though there is still some variability in the storm's track, meteorologists are expecting New Jersey will likely avoid snow, except in the northwest corner and high-elevation areas.
The storm is expected to hit the state late Tuesday night and bring rain and winds of up to 20 mph, according to Bunker. The temperature is expected to drop to the high 30s in much of the state.
With snow set to fall on Hopatcong, NJ roofing systems, roofing experts from companies like Up and Above Contractors, are advising homeowners to give their roofs one last inspection. Winter can be extremely harsh on a home's roof and can aggravate any existing damage. With that in mind, be on the lookout for the following signs on your roof:
Sagging Support
Before going up to your roof, head up to the attic space and check for any sagging areas. Sagging areas in the ceiling of your attic may indicate structural weakness and contracting an experienced NJ roofing company may be in order. If you neglect this warning sign, that part of the roof could cave in when large amounts of snow collect atop that section.
Damaged or Missing Shingles
If your roof is missing a few shingles or if shingles have sustained cracks or have been warped, be sure to have them immediately replaced to prevent further damage to your roofing system. Water from melted snow tend to seep into cracks and exposed areas on roofs, causing water damage. This can be especially dangerous since water expands when frozen; this can cause cracks and holes to grow larger.
Clogged Gutters
Leaves and other kinds of debris can easily clog a gutter and cause ice dams to develop; this is a problem you will want to avoid, as ice dams can reroute water straight into your home. Furthermore, ice dams can also cause excess water to collect in the gutter; when this water freezes, the sudden added weight can cause the entire gutter system to detach. Have your ice dams checked to protect the integrity of your home and all who live in it.
(Article Excerpt and Image from Nasty winter storm will likely soak N.J. before Thanksgiving, NJ.com, November 24, 2013)