Hailstorms can create hailstones of all sizes. The biggest hailstone ever recorded, as far as Guinness is concerned, weighed at an astounding 2.25 lb and fell in Bangladesh in 1986.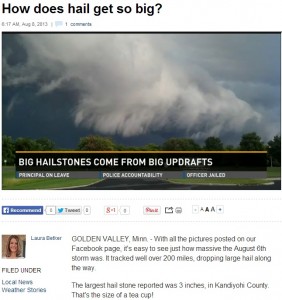 In the US, the most recent record holder fell in 2010 in Vivian, SD; it weighed at 1.94 lbs, beating the 1.67-lb hailstone that fell in Coffeyville, KS 30 years ago. Nevertheless, hail— big or small— poses a serious risk to any structure. The strongest buildings can shrug off hail but no building is completely impervious to it.
Roofing is of utmost concern when a hailstorm warning comes around. New Jersey is frequented by hailstorms like the one in 2009, which forced an early winter for the residents north of the Garden State. It almost makes you wonder how hailstorms generate stones big and heavy enough to dent even slate roofs.
All in the Updraft
You can thank (or blame) the updraft for that. Also known as vertical draft, an updraft is the rise of air from the ground to the top level of a storm cloud.
Here's how hail gets to be so large: It's all about the updraft (a strong vertical wind that travels from the surface to the storm cloud's upper-most levels). For golf ball sized hail and larger, Tuesday night's updraft would have been between 60 and 85 miles per hour. The stronger the updraft, the larger the hailstones.
Ground temperature won't matter in the formation of hailstorms as long as the air temperature is below freezing. A faster updraft will generate bigger stones because light hailstones will be pushed back up by the updraft to freeze several times over. As soon as it becomes too heavy for the updraft to lift, the stone falls and hits roofs and exterior walls hard.
Even though the surface temperature was in the 70's and 80's yesterday, upper levels of the atmosphere are below freezing, so instead of raindrops, there are ice crystals. As those ice crystals fall and melt, they get caught in the updraft and are sent right back to the top of the cloud; forming a small hailstone.
For instance, an 84-mph updraft is enough to generate hailstones the size of a regular teacup. It's even possible for hailstones to be as big as volleyballs.
Reinforcing Roofing
The variations in hailstone size and weight make the definition of "hail-resistant roofing" moot. Slate roofs that trusted Byram Township, NJ roofing contractors like those from Up and Above Contractors may shrug off pea-sized hail, but what about grapefruit-sized ones? For all its worth, slate will be your best material for weathering hailstorms.
Fortunately, hail-damaged slate roofs can be easily replaced with fresh tiles from professional roofing contractors in Byram Township, NJ. There's hardly any need to re-roof the entire thing.
(Article video and excerpt from "How does hail get so big?" KARE 11, August 8, 2013)