The Leadership in Energy and Environmental Design (LEED) program isn't just designed for buildings and businesses. The typical American home also has the privilege of such a distinction.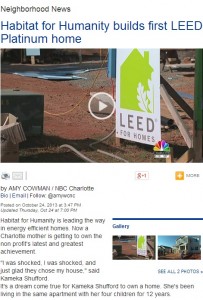 Last October, non-profit organization Habitat for Humanity awarded a home to a mother and her four kids in Charlotte, NC. The mother, Kameka Shufford, was all shock and elation when the organization chose her to own a LEED Platinum-certified home, the highest level any qualified structure can receive. As of press time, it remains the only home in Mecklenburg County to sport a LEED Platinum certification.
For a building to qualify for LEED Platinum certification, it must score 80 points or higher in a general inspection and assessment. The points are derived as a sum of points from six categories: water efficiency, sustainable sites, energy and atmosphere, innovation in design, materials and resources, and indoor environmental quality.
Habitat for Humanity estimates that a LEED Platinum-certified home can save up to 30 percent in energy bills. This means cooler summers and warmer winters for less.
From specialized reflective roof shingles, to all natural materials inside, like hard woods floors and granite countertops, the house meets LEED criteria, which for Kameka translates into saving money.
"They will save probably 25 to 30-percent on their energy bills; it will be cooler in summer, warmer in winter," said Prince.
Green Metal
While metal roofing alone won't be enough to attain a high level of LEED certification, it's the first step to reaching for the prize. The Cool Metal Roofing Coalition outlines the requirements for metal roofing that expert Hopatcong, NJ roofing contractors offer to qualify for LEED certification. The roof must score high enough (not necessarily achieve 80 points or more) to be eligible.
For the sustainable sites category, a painted metal roof must be able to meet the reflective index value required. Experts say there are three options to achieving this. First, high reflectance must be possible for more than 75 percent of the roof surface. Second, over half of the roof must be covered in plants and vegetation. The last option is a balanced compromise between both options.
The story above shows that homes can achieve energy efficiency to the peak of possibility. All it takes is the correct design and materials to pull it off. Consult Sparta, NJ roofing contractors such as Up and Above Contractors to get an idea on how to have a LEED-compliant roof and how much it will cost you.
(Article video and excerpt from "Habitat for Humanity builds first LEED Platinum home," WCNC, October 24, 2013)