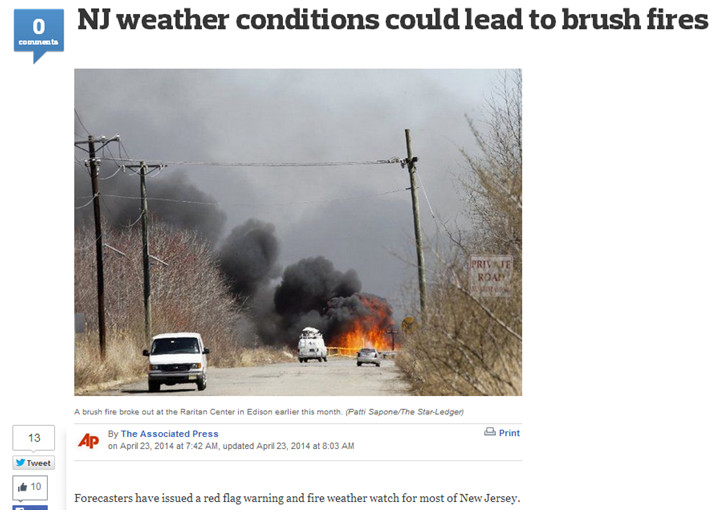 As we move closer to summer, the weather is leaning on the hotter side now. The rising temperature means a lot of enjoyable outdoor activities for many, but this has quite a different impact on the weather. For one, there's low humidity in the coming days. New Jersey residents now have a new concern: brush fires. NJ.com has published a report by the Associated Press related to this matter:
Forecasters have issued a red flag warning and fire weather watch for most of New Jersey.

Low humidity and strong winds will combine to allow the spread of any brush fires that develop, forecasters said…

…Residents are advised to properly dispose of any smoking materials.

The state's long winter has lead to a number of recent large brush fires, including one that burned 200 acres in Edison, and a massive blaze in the Pine Barrens that consumed two square miles and sent smoke as far north as New York City.
This warning definitely increases the worry of many about fire safety at home. NJ roofing contractors talk about how you can keep your property safe from brush fires. For one, roofs have to be free of leaves and debris to keep your property safe. Remember that winds may carry some embers that could start an accident. It's also important to keep tree branches pruned to a safe distance from your home.
Above all, what roofing contractors in NJ point out is the importance of knowing the characteristics of your roof's material. Wood is definitely prone to fire, which is why you should have some preventive treatments ready for that. Metal, slate, tile, and asphalt all have some form of fire resistance, but you would still have to watch out for potential flammable risks such as twigs and leaves on your roof. When you have more knowledge about your property, it's easier to keep your home safe from the brush fire season. Contact Up and Above Contractors if you aren't sure about anything – it's always better to get professional advice to avoid potentially costly circumstances.
(Article excerpt from NJ weather conditions could lead to brush fires, nj.com, April 23, 2014.)