A brick house isn't just a nostalgic throwback to an earlier time; it's also a vessel for benefits such as better heat retention and easier maintenance. The protection provided may even be doubled, as Evan Gillespie of SFGate explains: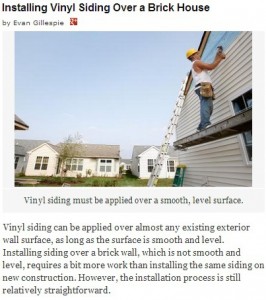 Vinyl siding can be applied over almost any existing exterior wall surface, as long as the surface is smooth and level. Installing siding over a brick wall, which is not smooth and level, requires a bit more work than installing the same siding on new construction. However, the installation process is still relatively straightforward.
The appeal of brick houses and vinyl siding can tug at residents of the great state of New Jersey. The state packs hot, humid summers and the winters can see the temperature drop to as low as 18 degrees below zero Celsius. Brick houses in wintertime even have the advantage of distributing the heat inside. If your house is made of brick and you feel it can benefit from additional coverings like vinyl siding, you can have siding contractors in NJ like Up and Above Contractors LLC install them for you.
According to Gillespie, vinyl siding can be seamlessly installed if the house's surface itself is straight and level. However, brick walls are not known for being smooth all the way and that factor may be a challenge for your preferred contractor. Vinyl siding on uneven walls render it prone to ripples or bowing.
There are ways to get past that hurdle. First, the contractor crew will set up banks of furring strips attached to ring-shanked nails; the assemblies are where the sheathing will be installed. All of the furring strips should be between 12" to 16" apart. As for the foam sheathing, your contractor may recommend installing sheets between 1/4" and an inch thick and the edges butted together for effective thermal protection. The nails that will seal the strips must also have foam and washers to enhance the seal.
Gillespie also explains that weatherproofing will be needed in case of corners. For instance, you should set up flashing between the brick and the sheathing before caulking the gaps.
A brick house that is decked in vinyl siding can be an all-around advantage in taking on New Jersey's weather patterns. Putting up the siding through Sparta, NJ contractors like Up and Above raises the durability further as a result of professional installation and skill.
(Article Excerpt and Image from Installing Vinyl Siding Over a Brick House, SFGate)