To protect roofs regardless of age, dimension or style, weatherproofing is required. Many New Jersey residents are sentimental toward older roof designs so there is a sizeable market for restoration projects. However, home building experts and roofers in NJ would say that repairing historic roofs is a challenging task and it takes a highly-skilled contractor.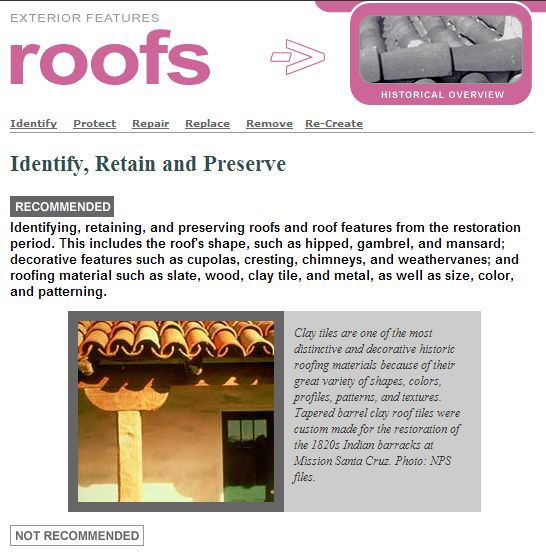 Before any work begins, the historic value of the existing property should be carefully assessed. Next, a detailed internal and external inspection needs to be done to determine the major and minor issues and to identify the options for repair or replacement. Afterward, the methods to be used should be carefully implemented to prevent accidental damage since many parts of historic homes aren't likely to be replaceable. The National Park Service has a detailed "to do" list:
Protecting and maintaining a restoration period roof by cleaning the gutters and downspouts and replacing deteriorated flashing. Roof sheathing should also be checked for proper venting to prevent moisture condensation and water penetration; and to insure that materials are free from insect infestation.

Providing adequate anchorage for roofing material to guard against wind damage and moisture penetration…

…Repairing a roof from the restoration period [should be done] by reinforcing the materials which comprise roof features. Repairs will also generally include the limited replacement in kind–or with compatible substitute material–of those extensively deteriorated or missing parts of features when there are surviving prototypes such as cupola louvers, dentils, dormer roofing; or slates, tiles, or wood shingles. The new work should be unobtrusively dated to guide future research and treatment.
As mentioned, this kind of job requires a highly-skilled and knowledgeable contractor. Therefore, if you are looking to restore an old property in Sussex, Warren or Morris County, New Jersey, contact Up and Above Contractors and we will be glad to give you a free assessment. Our roofers in Sparta, NJ and other nearby townships and boroughs are trained to preserve the architectural character and maintain the physical integrity of historic roofs without damaging any of the structural components of the home.
(Article Excerpt and Image from Exterior Features Roofs, nps.gov)