When bad weather hits, it can hit New Jersey hard. As much is evident if one looks at reports following the storms that struck the state in August. According to an article on TheTrentonian.com, when "a series of powerful storms with damaging winds blew through southern and central New Jersey," residents were left in a situation where "power lines were knocked down, traffic lights knocked out and roads flooded."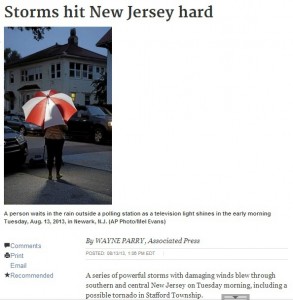 What happened at that time can happen again anywhere in New Jersey. However, simply staying indoors when a similar incident takes place will not guarantee your safety. Unless your house is in structurally good shape, you won't be out of harm's way.
Find time to inspect your house to see traces of potential problems. It is especially crucial to perform this task in areas that are not easily accessible or visible daily, like the roof. We suggest you contact trusted roofing contractors from Sussex, NJ to perform such a task, since these professionals know what to look for.
Roofing contractors in NJ like Up and Above Contractors can conduct an assessment of your roof's condition. The results of their examination will give you an idea of the scope and cost of any work that needs to be done. This service is normally given free of charge, so you are not obliged to employ the first contractor who supplies you with an estimate.
Take note, however, that maintaining your roof is not only important to protect yourself from the damage brought by natural disasters. Keep in mind too that, at one point or the other, your roof could leak, a shingle could fall, the GI sheet could rust, debris could clog the gutter, and other forms of roofing problems could surface. Poor maintenance and many other factors can cause any of these problems, with or without calamities playing a role.
Needless to say, you may find yourself dealing with a roof-related concern not only on a rainy day. This only underscores the need to regularly check whether the roof over your head needs replacement or restoration work.
In certain cases, the roof problem can be fixed quickly. At other, times though, major repairs that take long to complete might be necessary. Whichever the case, let the pros solve the problem so that you can count on better results.
(Info from Storms hit New Jersey hard, The Trentonian, August 13, 2013)