Your home should be the place where you can enjoy the ever-popular "peace and quiet". However, if you live in a busy neighborhood or close to a street, the sounds of rowdy kids, passing cars, and even your neighbor's furry pets can become regular headaches that you may want to block out with earplugs or noise-reducing earmuffs. Then again, your home isn't a place for you to be using such protective devices, so you ought to consider soundproofing solutions.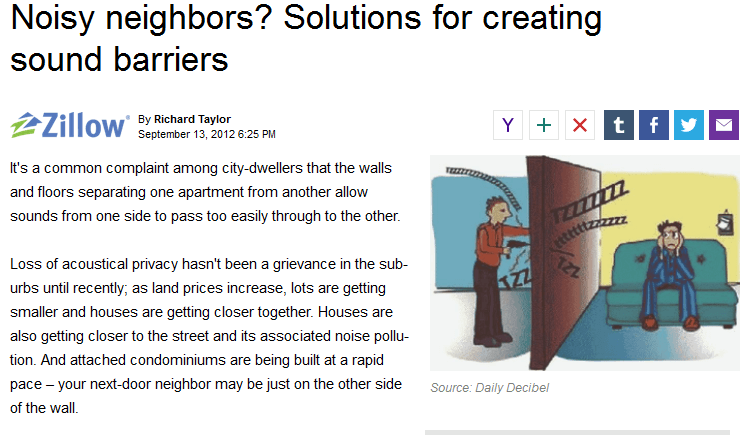 Soundproofing: Denying the Din of the Outside World
To avoid any confusion, you must first know that there is no absolute way for you to keep outside noise from penetrating your home, which is the point commonly implied by "soundproofing". Hence, some professionals prefer to use the terms "sound blocking" or "sound isolating", but regardless of the terminologies, protecting your home from noise all comes down to placing barriers.
The Science behind the Noise
Prior to choosing an effective sound barrier, it would be beneficial for you to understand how external sounds enter your home. An article from Yahoo! Homes explains the process well:
When a sound is created on one side of a wall or floor, the energy causes the building materials to vibrate; if that material is a thin, flexible material such as drywall or wood flooring, it picks up the vibration and easily transmits it to the next material in the assembly.
If the next material is air – in a hollow wall or floor assembly for example – then air vibrates, continuing the transfer of energy to the next material. Much of that sound energy can be stopped simply by filling the air space with insulation such as fiberglass batts or cellulose. The "loose" nature of insulation doesn't transfer energy well and does a very good job of reducing the volume.
The Role of Siding Contractors
Given the fact that soundproofing your house may require improving some of its structural components, namely its walls, siding, and windows, you'll definitely need the help of leading siding contractors in NJ like Up and Above Contractors. They know the best products and materials in the market that can absorb, block, and muffle outside noise.
Take insulated vinyl siding in Sparta, NJ homes, for instance, which serves as effective air barriers and insulators. When installed properly, insulated siding can offer as much as 45 percent more noise reduction than traditional siding materials. Whatever soundproofing solution you choose, see to it that you invest in quality and efficiency.
(Article Information and Image from Noisy neighbors? Solutions for creating sound barriers, Yahoo! Homes)