For most people, smartphones and tablets are instant sources of entertainment and important lines of communication. For professionals like trusted roofing contractors in Byram Township, NJ, however, such nifty devices take on a whole new purpose. In fact, EMA, an integrated marketing communications agency, conducted a 2013 survey that revealed a 35% increase in the smartphone use of contractors while on the job, as well as a 54% increase in the use of tablets.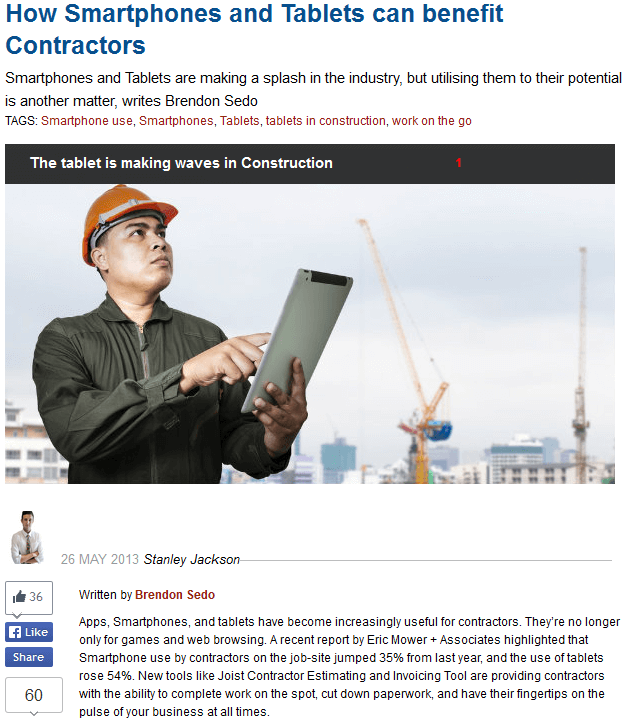 The Rationale behind the Rise
Needless to say, the convenience offered by technology is the primary reason for the popularity of smartphone and tablet use among contractors. An article from Construction Digital provides concrete examples in the following excerpt:
Apps, Smartphones, and tablets have become increasingly useful for contractors. They're no longer only for games and web browsing. […]

Combine Tools

A Smartphone is almost like a new age Swiss army knife. You can combine numerous tools into one (something we can all appreciate). For example your Smartphone can become your address book, a leveling tool, a GPS, email client, your invoice book, a flashlight, and more.

Reduce Paper

A mobile device can easily replace all of your paperwork. Examples include digital signatures, invoices, expense recording, estimates, and contracts. Paperwork is the last thing you want to worry about after a long day. With a mobile device you can capture information and complete your paperwork instantly, and the best part is everything is saved for you online. Meaning it cannot be lost or destroyed.
Apps for Roofing Contractors
Whatever their gadget's operating system, leading Byram Township, NJ roofing contractors like Up and Above Contractors are still guaranteed to impress clients and make their work easier with various useful apps available for download.
These days, apps that are gaining a lot of raves in the industry are iRoofing and Pitch Gauge, which could both be downloaded for free. The iRoofing mobile app is primarily designed to improve the sales capabilities of roofing contractors and to streamline business transactions. The Pitch Gauge app, as its name implies, allows contractors to determine the pitch or slope of a roof without having to leave the ground.
In the end, regardless of how often people criticize the widespread use of gadgets that are said to be getting in the way of personal interactions and relationships, there's no denying the convenience provided by such tools with just a few swipes and presses.
(Article Information and Image from How Smartphones and Tablets can benefit Contractors, Construction Digital)