Knowing you have a good roof on your head during all sorts of weather can give you peace of mind. The characteristics of a high-quality roof would be durability, a long life expectancy, and the capacity to withstand strong winds. However, proper installation plays a big role for your roof to perform optimally, and only certified and experienced roofers can provide you with excellent results.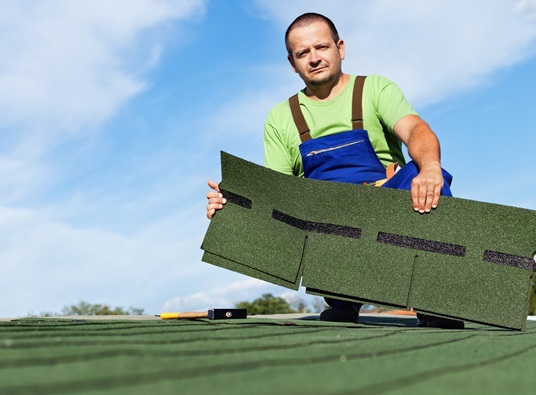 As one of your trusted roofing contractors in Byram Township, NJ, let Up and Above Contractors show you why we are the go-to company in the community.
Licensed
Many states in North America require a contractor to register for a state license. A license is proof that a contractor has undergone training and is knowledgeable in his craft. That is why it is important for you to know if a certain roofer has a license. This will tell you if they can provide the quality of help to address your concerns. We take pride in being a licensed contractor in the state of New Jersey and the Commonwealth of Pennsylvania. Have the confidence that working with us will result in a job well done.
Fully Insured
We value both you and our staff. That is why we carry full liability insurance coverage of up to $2 million, along with worker's compensation insurance. This gives you peace of mind that you have protection should an incident occur on your property while our roofers are working.
Certifications
Another strong indication that a company is worth hiring is if they have manufacturer certifications. Our GAF Master Elite™ contractor status is an honor, and it allows us to provide you with high-quality roofing products. Our products come with strong industry warranties that only GAF-certified Byram Township, NJ, roofing contractors like Up and Above Contractors can provide. You can be sure that our replacement roofing offers lasting protection.
High-Quality Products and Services
It is our mission to provide affordable and professional products and services. We are committed to improving homes through seamless installation of high-quality roofing systems from GAF. You can expect that our roofing systems can withstand strong winds and provide superior performance for a long period. Our services include:
Roof repair
Roof replacement
Replacement windows
Siding
Decks
Additions
Up and Above Contractors has been protecting homes in the state of New Jersey through economical and reliable GAF roofing. Being one of only two roofing companies in New Jersey to receive three GAF Excellence Awards, hiring us ensures you receive excellent service. For roofing concerns, call us today.