If you want your roof replacement to be a smooth and worry-free experience, be sure to choose a roofing contractor that can provide the professional and reliable service that your home deserves. Much of your project's success depends on them, and with their guidance, you can avoid the potential risks involved in such a large investment.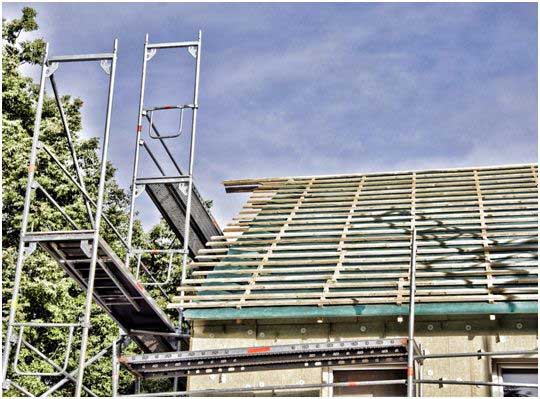 Up and Above Contractors, the leading choice for roofing contractors in Byram Township, NJ, shares the three things that you should watch out for in roof replacement.
1. Neglecting to Apply for a Building Permit — Most home improvements require a building permit, especially for a large project like roof replacement. Since this required paperwork has your safety and protection in mind, it's important to see to the application as you plan the roof work. Non-compliance can result in fines, forced removal of your new roof, and your insurance company refusing to cover your investment.
The process can be lengthy, however, and that's when hiring a reliable roofer comes handy. Up and Above Contractors has deep knowledge about the application process. Trust us to handle this essential matter for you before we work on your roof replacement.
2. Pressuring Tactics — Some contractors might use shady techniques to push you into a corner. They'll first approach you for a free estimate and then try to pressure you into signing a contract—which is already a red alarm. Fast-talking arguments might meet any resistance on your part, and that should prompt you to drop them immediately. A trustworthy roofer won't resort to pressuring tactics. Up and Above Contractors, for instance, offers a free consultation and assessment on your roof, but you're not obliged to agree to anything. We'll offer you solutions that properly address your home's needs.
3. Storm Chasers — When investing in roof replacement, be wary of contractors that appear on your door and offer low-priced services. They'll likely use faulty materials and make fast, sloppy work on your roof. You can avoid this with Up and Above Contractors, the top choice for Randolph, NJ roofing contractors. With our high-quality products from the leading manufacturers, including GAF and CertainTeed, and our highly trained team, we'll make sure your roof replacement is expertly handled.
We'll help you avoid the pitfalls of roof replacement when you turn to us. Fill out our form today for a free estimate.