As a commercial building owner, you have many decisions to make regarding your property. These include the right paint color to apply in your interiors and the proper door styles to install in your building. More importantly, you also need to consider the type of roofing system and materials to use.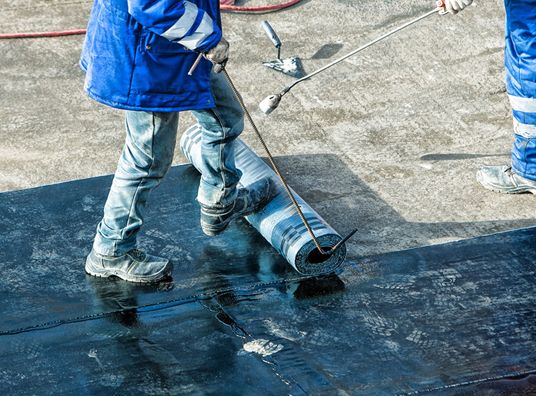 With several roofing options available, it can be overwhelming to make a choice. Let Up and Above Contractors provide some help. As one of the leading roofing contractors in Sparta, NJ, and the local area, we'll guide you in choosing the options that suit your property best.
In this entry, we focus on two of the fastest-growing segments in the commercial roofing market—PVC and TPO.
PVC: High Level of Performance
PVC roofs have been around since the 1970s. Short for polyvinyl chloride, PVC offers the durability and flexibility of plastic materials. When used in roofs, it goes together with additional materials to make the membrane UV resistant and prevent it from curling. The roof would also consist of a bottom ply of PVC membrane with plasticizers for added flexibility.
These roofs are known for their superior strength, durability, and environmental impact. With a breaking strength of 350 lbs/in, these exceed the minimum breaking strength of 200 lbs/in required by the American Society of Testing and Materials (ASTM). These roofs can also resist damage and discoloration caused by harmful sunrays. These can also help homeowners save energy through their cool roof properties. PVC roofs are 100% recyclable, as well.
TPO: Durability and Longevity
Thermoplastic olefin is a combination of materials reinforced by polyester. Originally an alternative for PVC, TPO roofing is now the fastest-growing category of single-ply systems. Experts say that these are longer lasting than other options because their chemical makeup does not involve plasticizers.
One of the most significant qualities of TPO roofing is its cost-effectiveness. This offers a superior level of durability with a reduced price than other roofing options. This roof can also provide you with an efficient protection for many years due to its ability to resist damage and mold growth.
If you're thinking about getting the right roofing material, it pays to ask expert roofers in Sparta, NJ, like Up and Above Contractors. We have over 20 years of experience providing quality roofing to residential and commercial properties in NJ. With our products and services, you will be confident that you're getting the best option for your building.
If you'd like to learn more about our products, give us a call at (973) 531-4225 today.