Roofs are created to give protection to your home. They are, in essence, your first line of defense against extreme weather and other elements. However, this won't be possible with a damaged roof structure.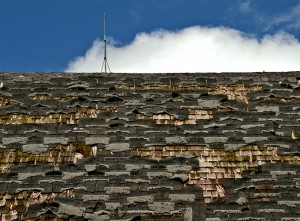 One thing we need to accept is that no roof will last forever. As your roof ages, it is bound to fail eventually. As one of your trusted roofers in Randolph, NJ, we can help you decide if a replacement is necessary early on. We will help you prevent certain inconveniences and unnecessary costs.
Common Signs of a Failing Roof
First, we need to look for some common red flags. Curling and buckling problems are common to asphalt shingles. Did you know this indicates that your shingles are past their prime? It can also mean that your roof is defective or is poorly installed. Either way, shingle deformations are not normal. Even losing too much granules is a serious problem. Don't put off taking action on these roof issues. The best way to go about this is to consult your local roofer like Up and Above Contractors.
Another part to be concerned about is your roof valleys. If your roof shingles are starting to fall apart or go missing in this area, a new roof is necessary. Valleys lead rainwater into your gutters. Therefore, if your roof valley is compromised, your entire structure is prone to leaking. Other common signs of roof failure include spotting and staining on your interior ceiling. Both interior and exterior water stains indicate that there is a leak somewhere on your roof.
Reasons to Replace Your Roof
Roof failure is one sure reason to replace your structure. However, some homeowners simply want to improve their home's energy efficiency. A replacement would be a good solution to this, especially if your roof is old. Two more reasons to replace your roof is under performance and compromised protection. The great news is that we have a solution. Our energy-efficient roofs will help you save on your heating and cooling costs. Not only that, you can also enjoy a drier and more comfortable home.
Damaged roofs, when neglected, can result in various problems. Leaks for one, can affect your windows, siding, and doors. Fixing your exterior paint can be costly, and so are other repairs. Why compromise other parts of your home if you can solve the problem early on? Get in touch with a roofing contractor like Up and Above Contractors for an inspection. We will help pick the most suitable product for your home. Surely, our roof replacements will give you peace of mind.
We are your reliable roofers in NJ who commit to quality and performance. Our partnership with GAF, the country's top roofing brand, enables us to provide first-rate products and materials.
With professional help, giving solution to your roofing needs is easy. Just call us at (973) 531-4225 today to learn about your roof selections.