When your roof experiences minor damage due to different elements, only small repairs are needed. However, when you've done every repair necessary and the damage remains, it's time to have your roof replaced.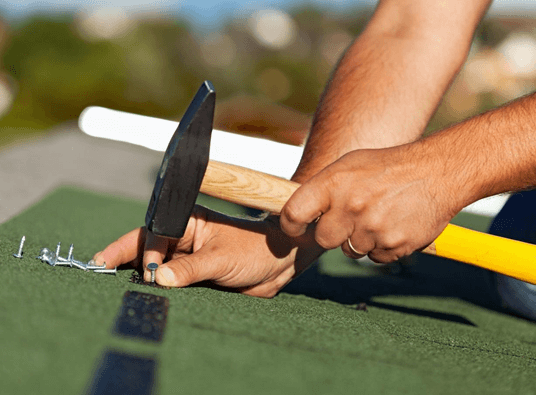 Replacement vs. Repair
The main steps in handling any kind of roof damage are to examine your roof for problems and hire roofing contractors in NJ to help fix them. They can suggest possible solutions for your roof and, depending on the extent of the damage, will recommend either repairs or complete re-roofing.
Some common signs of roof damage include dark areas on the ceiling; water stains; and buckling, curling, or blistered shingles. These problems can easily be solved by repair, especially when your roof is relatively new.
However, if your roof is too old or a large part of it is too heavily damaged, replacement is highly recommended for the following reasons:
There's a chance that materials will not match your current shingles or tiles. A complete roof replacement can avoid this problem.
An overall fix now can save you costly repairs in the future and will likely be less expensive than having a part-by-part roof repair.
When re-roofing, contractors can also check your roof deck for any damage.
If you find any signs of damage, it's important that you solve these problems immediately. Waiting too long for any repair or replacement can lead to further damage and more costly solutions. Remember that long-term solutions can extend a roof's life span, especially when they are done properly.
Tips on Planning Roof Upgrades
When planning your roof upgrade, you should consider the long and short-term cost of both repair and replacement. Minor leaks can be patched while missing or torn shingles can be replaced with the same material, shape, and color. If the problems are persistent, however, then consider replacing your roof with more durable, cost-effective, and energy-efficient materials. Routine maintenance is also vital to fixing minor problems and preventing bigger ones.
Other tips you can follow are creating a detailed plan of your project (which should include roofing materials, the duration of the project, and an estimated budget) as well as checking for local building codes and hiring a qualified contractor.
Quality Roofing Service by Up and Above Contractors
Decision making is very important in any home remodeling project. If you're having trouble choosing whether to replace or repair your roof, roofers in NJ like Up and Above Contractors can help you.
Give us a call at 973-531-4225 to get a free estimate as well as to learn more about our services. We'd love to hear from you.